2019 Toyota Camry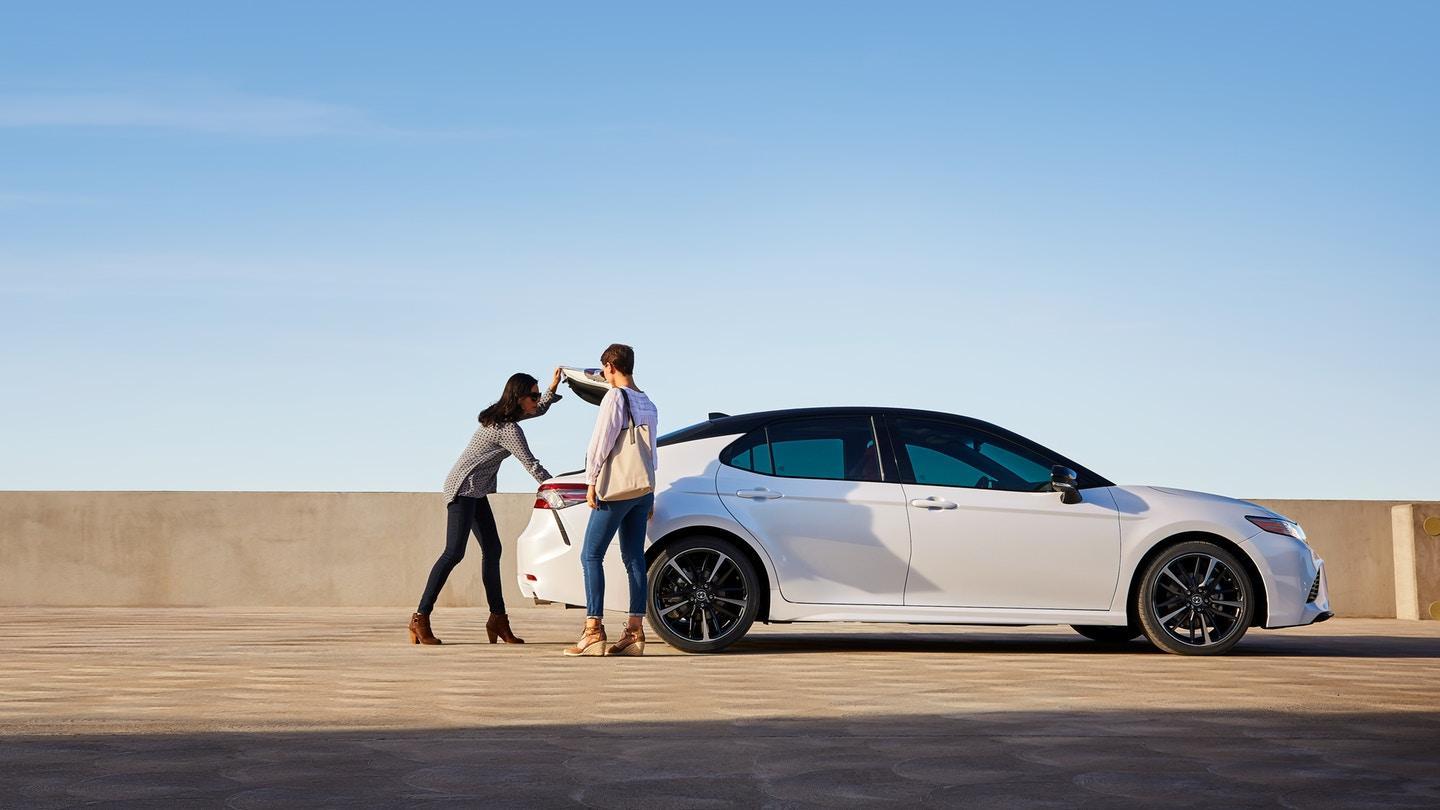 The Toyota Camry has been one of the favorite cars in America for as long as most of us care to remember. It's therefore a pretty big deal when a model of such importance gets a full makeover, which is exactly what we have with the 2019 Toyota Camry. So, let's see what's been done to the new Toyota Camry for 2019.
Styling
Despite its massive sales over so many years the Camry has never been among the most exciting or cutting-edge designs in the midsize sedan segment. That's all changed this time around as Toyota has taken what some might see as something of a risk by bringing in a much more futuristic and contemporary look for what has traditionally been one of its more conservative models. The profile is probably still on the conservative side of things, but the front is anything but with a gaping lower grille on L, LE and XLE trim levels and a different bumper on SE and XSE trims that's actually quite muscular. Sport-styled SE and XSE models also get a spoiler and faux rear diffuser for an extra degree of sportiness.
Powertrains and performance
Toyota has presented us with the Camry in two different flavors this time around. Some models are engineered to please those who want a comfortable car while others are designed to impart an altogether sportier feel. The L, LE and XLE trims are the ones with a softer, lighter ride for extra comfort, and the SE and XSE get retuned suspension and steering for a firmer and more taut driving experience. The standard engine for all trims is a 2.5-liter inline-four developing just over 200 horsepower, which sends its power to front wheels through an eight-speed automatic transmission. The alternative is only available with the XSE and XLE trim levels and it's a 3.5-liter V-6 that puts 301 horsepower at the driver's disposal. As most of us would now expect from Toyota these days, the Camry is also available in hybrid form. This unit couples a 176 horsepower 2.5-liter inline-four engine with a two-motor hybrid system and a CVT transmission to deliver a combined output of 208 horsepower.
Interior
Depending on trim level the Camry either comes with a grippy cloth, synthetic leather or real leather. The cabin is very stylish and very comfortable without going too opulent as that would have bumped up the price too much. There's nothing low-rent in the cabin of the new Camry even in its entry level form, and rear seat passengers will be impressed by the generous amount of legroom on offer.
Features and equipment
As there are a staggering 10 different trim levels to choose from in the 2019 Camry lineup there's got to be one to suit almost every potential buyer. Even the entry level Camry L includes standard 7.0-inch touchscreen for infotainment with Apple CarPlay compatibility, active safety technology, adaptive cruise control, power features, LED headlights, and Bluetooth. From there the list of standard equipment just gets better and better.
To check out a 2019 Toyota Camry for sale in Fort Collins and to arrange a test drive to experience it, don't hesitate to get in touch with us here at Pedersen Toyota, your number one choice Toyota dealer in Fort Collins.