July 16th & 17th 2018 - Pedersen Northern Colorado Junior Championship
We are proud to sponsor the City of Fort Collins Junior Golf Program by hosting the annual Championship. The tournament was held at
The Olde Course at Loveland on the 16th and
Mariana Butte Golf Course, Fort Collins on the 17th.
Here are the results. Congratulations to everyone and thank you for participating!
Boys 15-18 - Max Noffsinger & Alexander Goeltl
Girls 15-18 - Brynn Ellis
Boys 12-14 - Ian Hunn & Brentyn Piaz
Girls 12-14 - Maryn Harlow
Boys 10-11 - Tadese Keyworth & Jackson Wilder
Photos: Brynn Ellis, Max Noffsinger, Maryn Harlow, Ian Hunn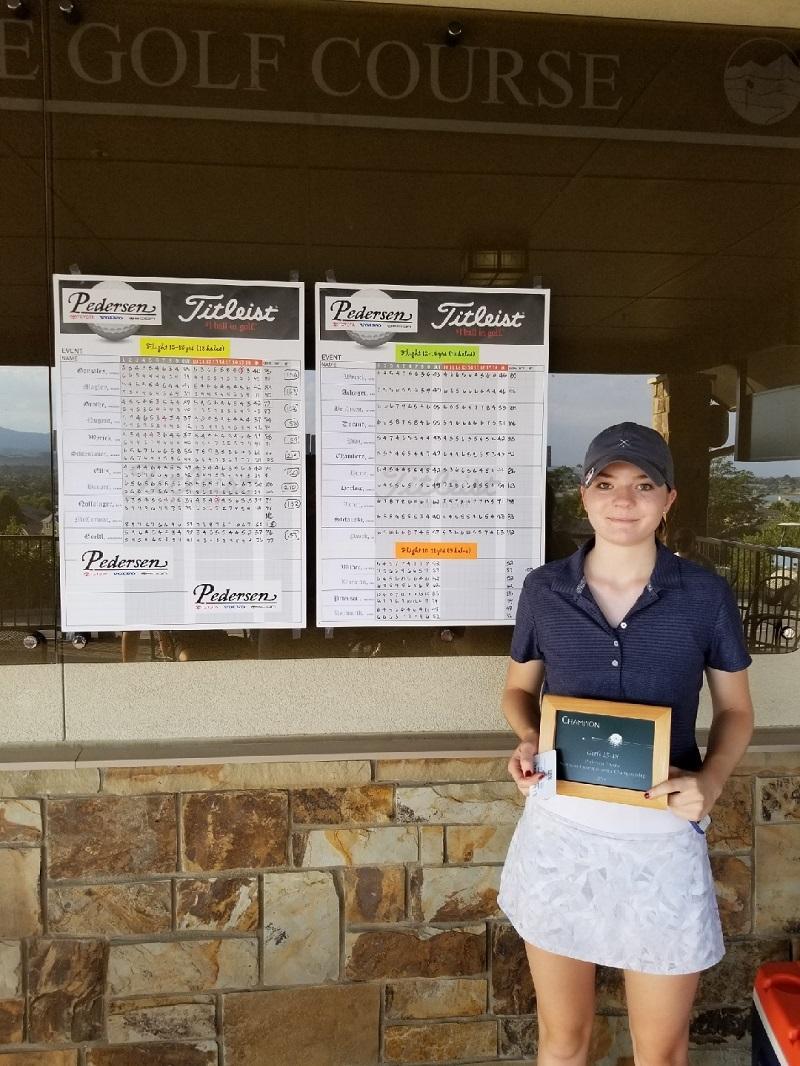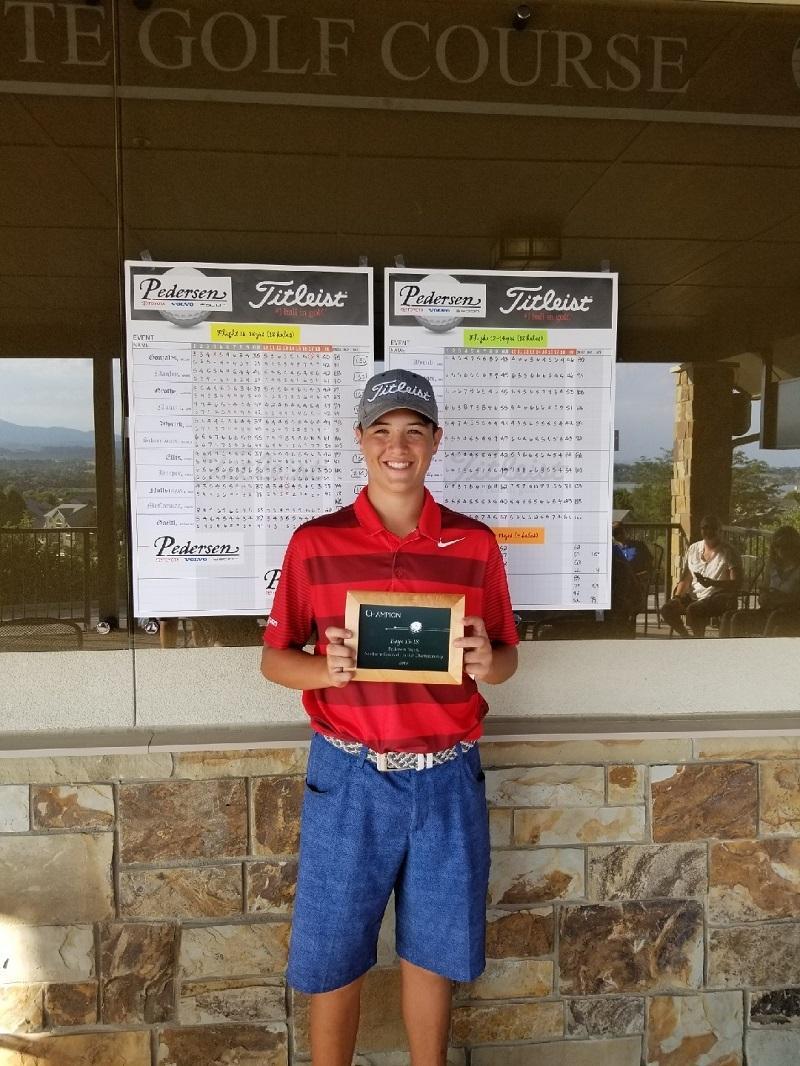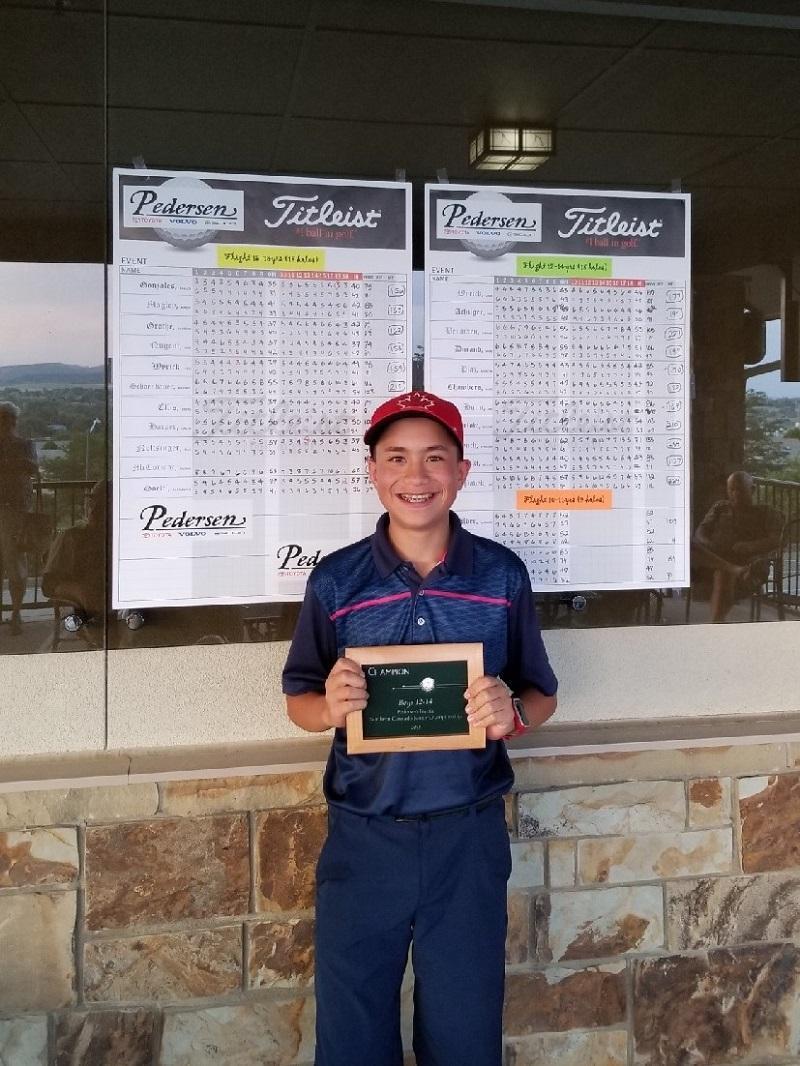 June 2018 - Colorado Youth Outdoors & Pedersen Toyota
We are proud to support Colorado Youth Outdoors which
exists to build relationships through traditional outdoor recreation. Swift Ponds is a 240-acre outdoor education and recreation facility that's dedicated to building relationships through outdoor recreation, including fishing, fly tying, archery, shooting sports and more.
Thanks to the program aides of Girl Scouts Day Camp of Colorado for finishing the setting of our stone at Colorado Youth Outdoors' Fish Tank Pond
. #letsgofishing!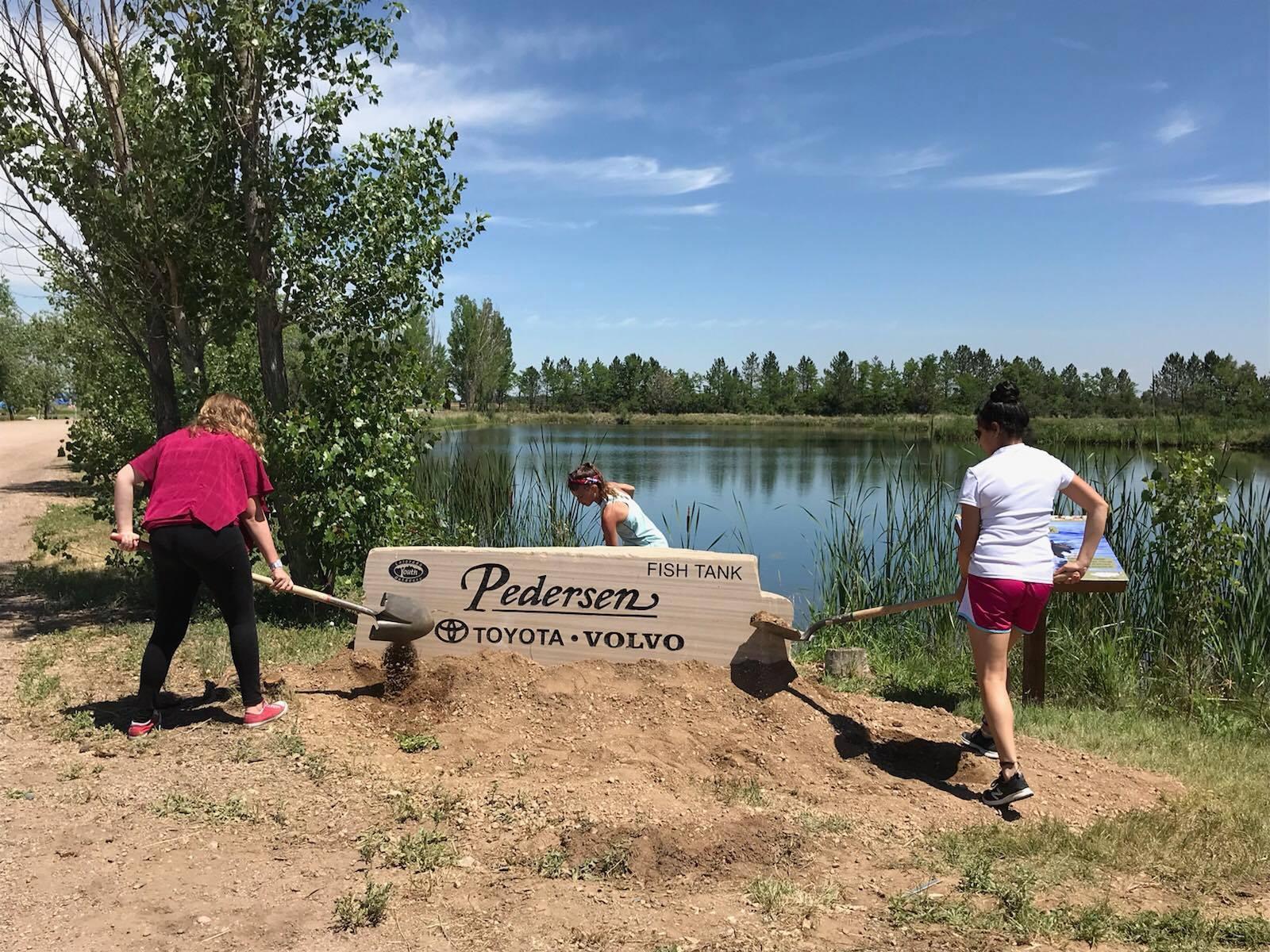 June 8th-10th 2018 - Taste of Fort Collins
One of the largest food and music festivals each year is the Taste of Fort Collins. We had a great time meeting the many visitors and giving away some treats along with a portable grill!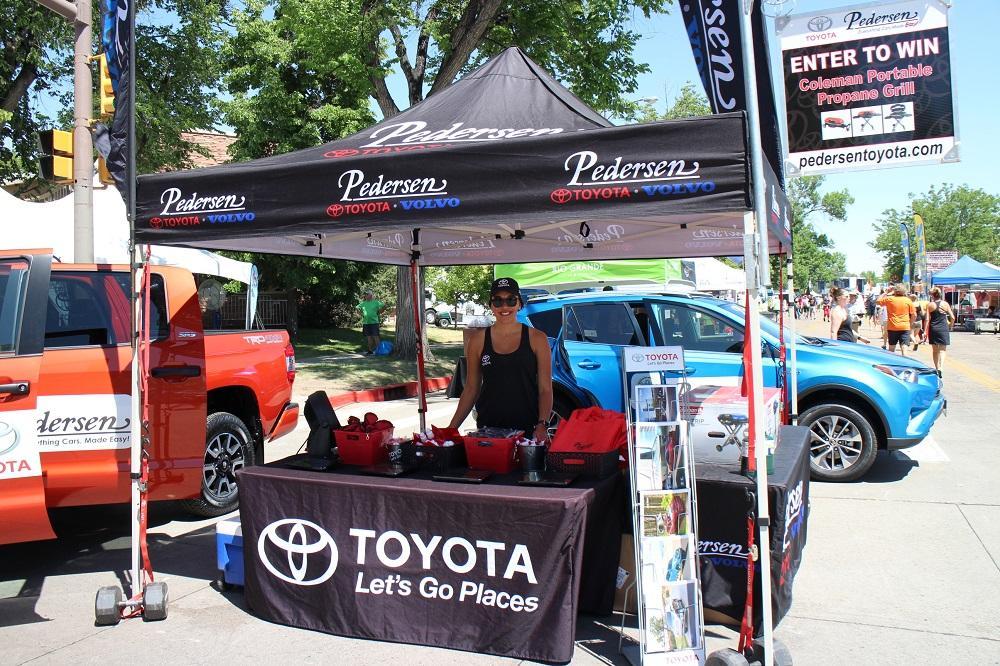 Saturday, June 2, 2018
-
28th Annual Fire Hydrant 5K & Paws on the Promenade
One of our favorite events each year is the one that helps our furry friends! At this annual event Northern Colorado comes together to help homeless pets in need. This fun, family-friendly walk/run, and expo is the biggest canine party of the year, complete with a dog-friendly 5K walk/run, a pet expo, dog contests and demonstrations and even a Healthy Kids Run and new Kids Zone We hope to see you there next year!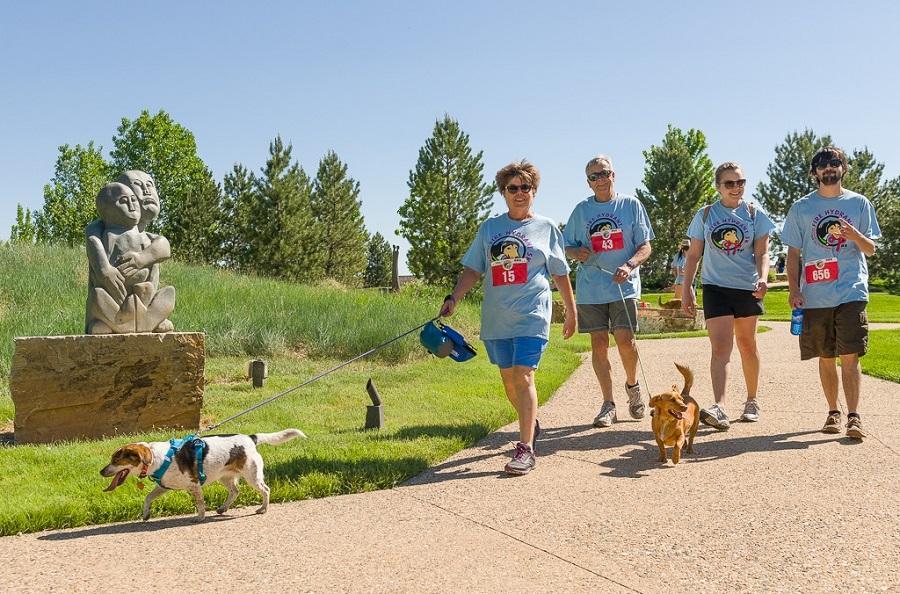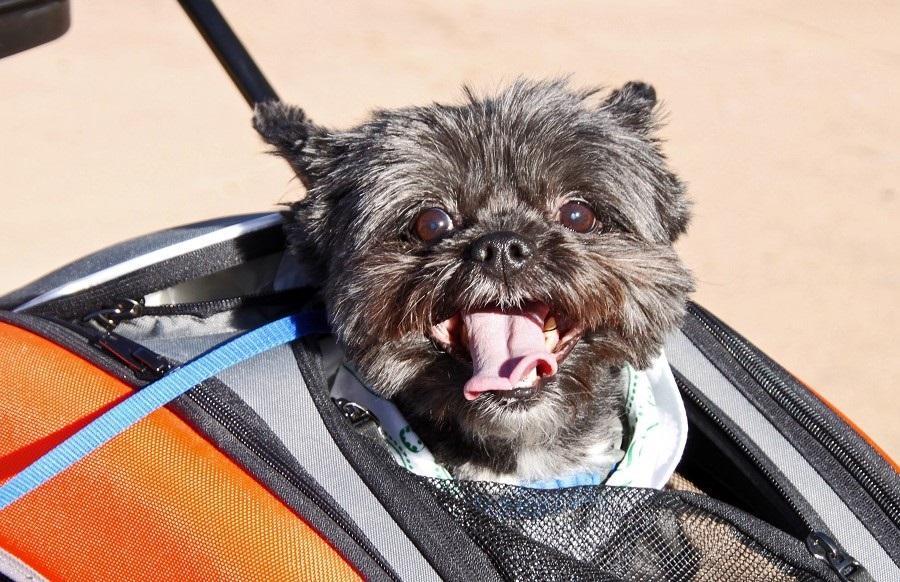 December 9th - 5th Annual Teddy Bear Toss
LOVELAND, Colo. – Pedersen Toyota and 107.9 The Bear, an iHeart Media Station are proud to team up for the 5th annual Colorado Eagles "Teddy Bear Toss" on Saturday, December 9th, as the Eagles take on the Rapid City Rush. The Colorado Eagles and 107.9 The Bear will be asking Eagles fans to help make the holidays a little more special for thousands of disadvantaged children across Northern Colorado. During that night's game against the Rush, fans are encouraged to bring a new or gently-used teddy bear or stuffed animal to the arena and toss it onto the ice after the first Eagles goal is scored. These bears will then be collected and distributed to the Northern Colorado Children's Charities.
"I've always loved the holidays. I love them even more with the "Bear toss" at the Budweiser Events Center with the Colorado Eagles," Nate Wild from 107.9 The Bear expressed. "To witness a couple of thousand bears falling from the sky and onto the ice at an Eagles game is awesome and to know those bears will be in the hands of a child in need in Colorado is something special. The Bear thanks the Colorado Eagles, The Budweiser Events Center, and Pederson Toyota for being a part of the Bear toss."
If fans are unable to bring a bear, or if they would like to have more than one bear to throw onto the ice, Pedersen Toyota has graciously purchased 300 additional bears, which will be available in exchange for a small donation to the Colorado Eagles Foundation. The bears will be available that night at the 107.9 The Bear booth in the Water Valley Tap on the main concourse.
Don't worry if you are unable to make it to the Teddy Bear Toss game you can still help. We have three drop off locations at the 107.9 The Bear Studios (iHeartMedia, 4270 Byrd Drive Loveland, Colorado), Pedersen Toyota in Fort Collins or the Colorado Eagles Holiday Store at the Promenade Shops at Centerra.
In addition to the Teddy Bear Toss festivities, the first 3,000 fans will receive the Eagles 2018 Wall Calendar compliments of 107.9 The Bear.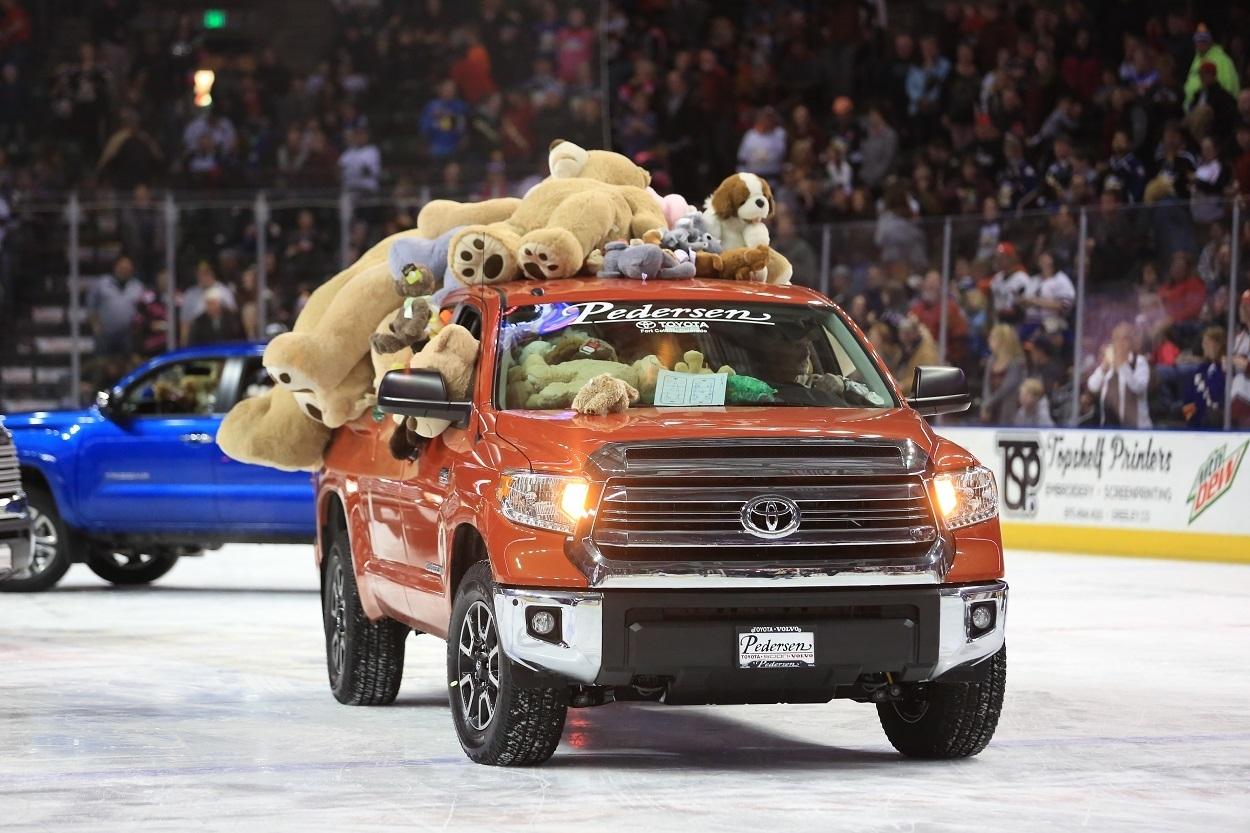 September 18th & 19th, 2017 - RAM Masters Invitational
The Colorado State men's golf team returned to Fort Collins to host the sixth-annual Ram Masters Invitational presented by Pedersen Toyota. It is a great pleasure to support our CSU Men's golf team!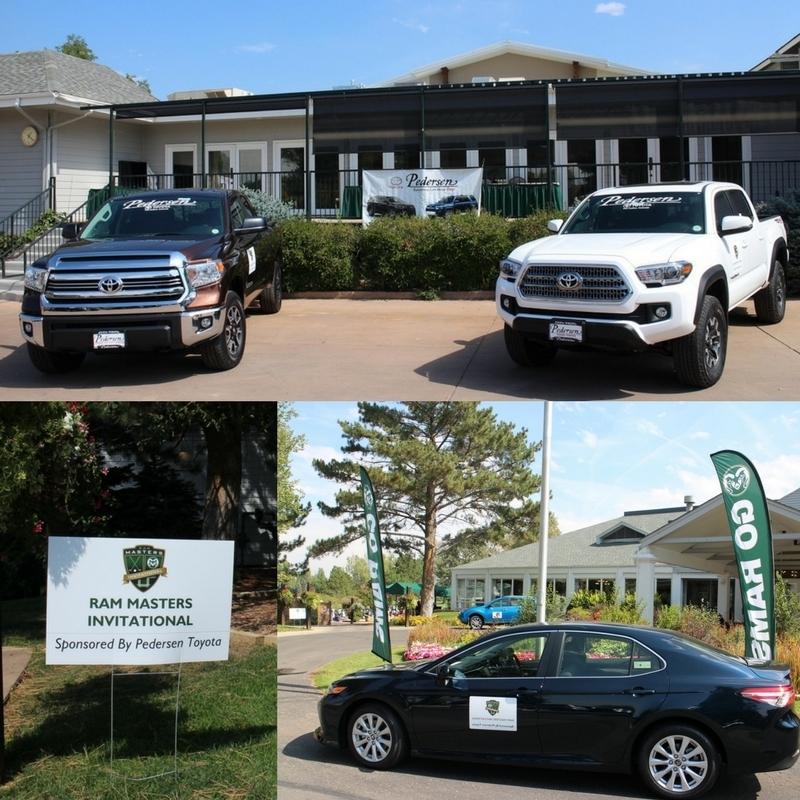 August 4th - August 8th 2017 - Larimer County Fair and PRCA Rodeo
Pedersen is a proud sponsor of the 2017 Larimer Country Fair & Rodeo at The Ranch/Budweiser Event Center.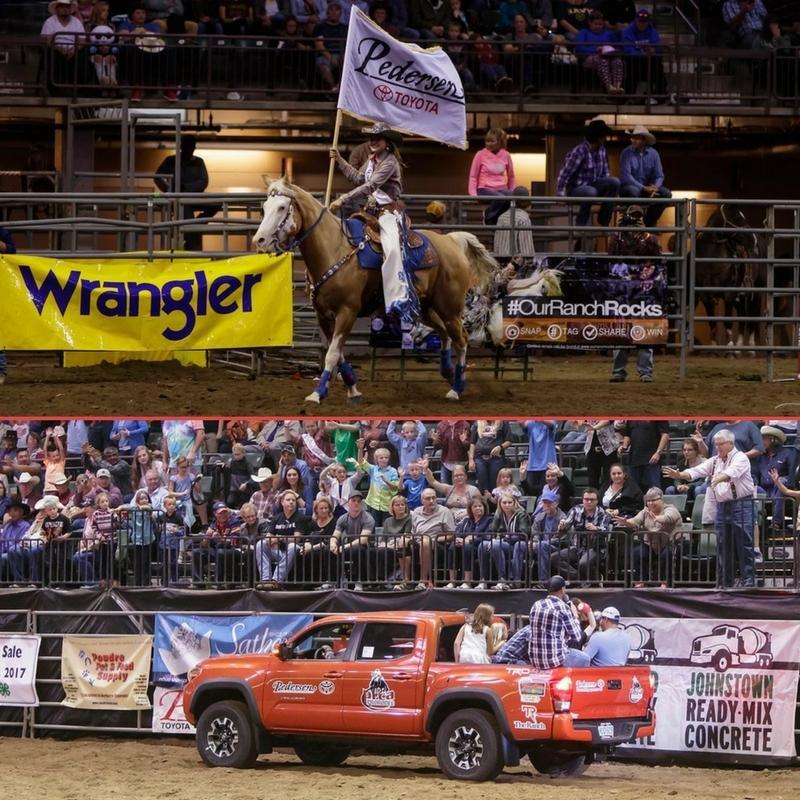 June 16th-18th 2017 - Harmony Club Member Guest
Congratulations to Eric on winning an all-new 2017 Toyota Tacoma with a hole-in-one at the Harmony Club Member Guest! We are thrilled to support so many awesome tournaments and fundraisers each summer and even more excited to give away a new truck!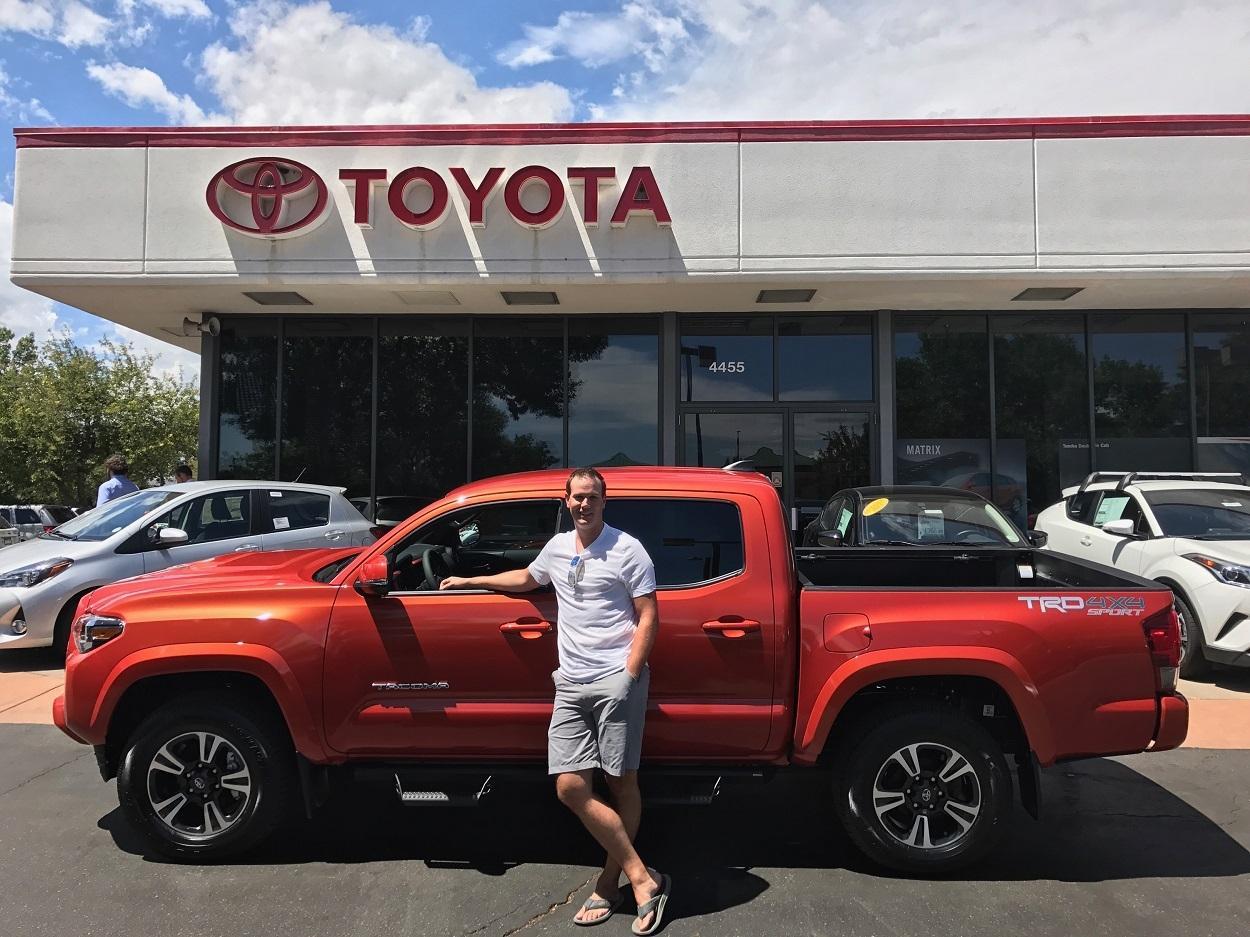 June 9th 2017 - Drive Fore the Point
Turning Point's fund raising Golf Tournament, held at Highland Meadows Golf Course, helps disadvantage youth and families in Northern Colorado.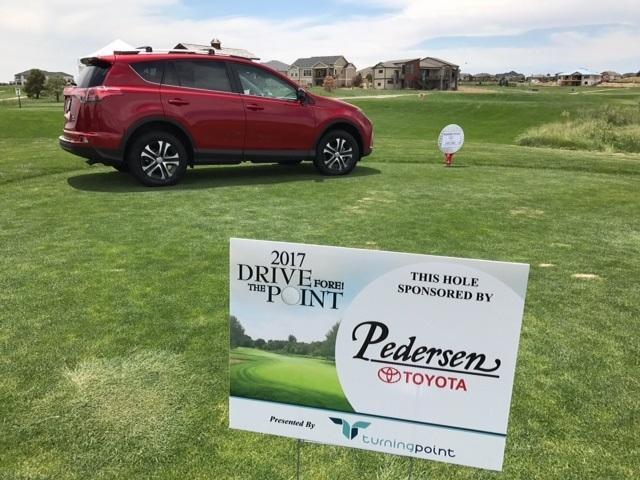 June 3nd 2017- Helping our Furry Friends!
We had great fun leading the way at the 27th Annual Fire Hydrant 5K & Paws on the Promenade. This family-friendly walk/run and expo is the biggest canine party of the year!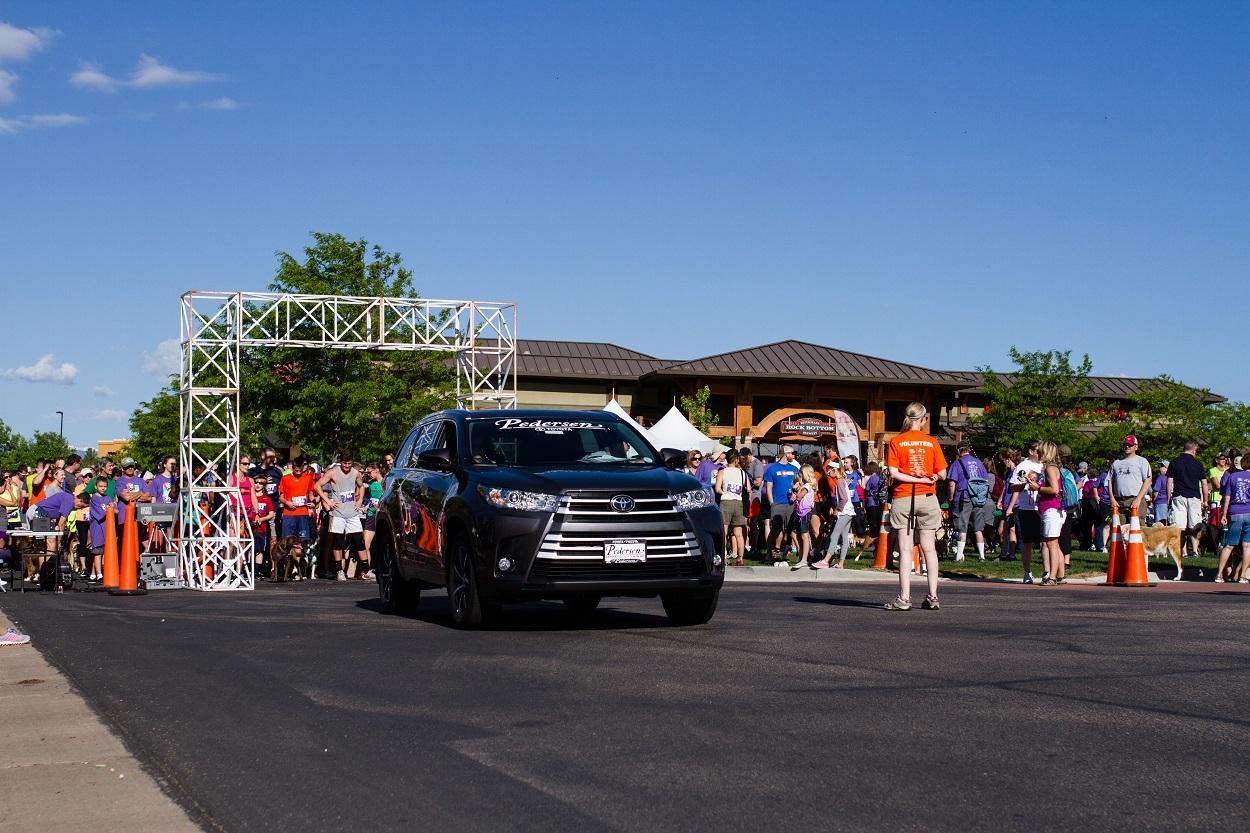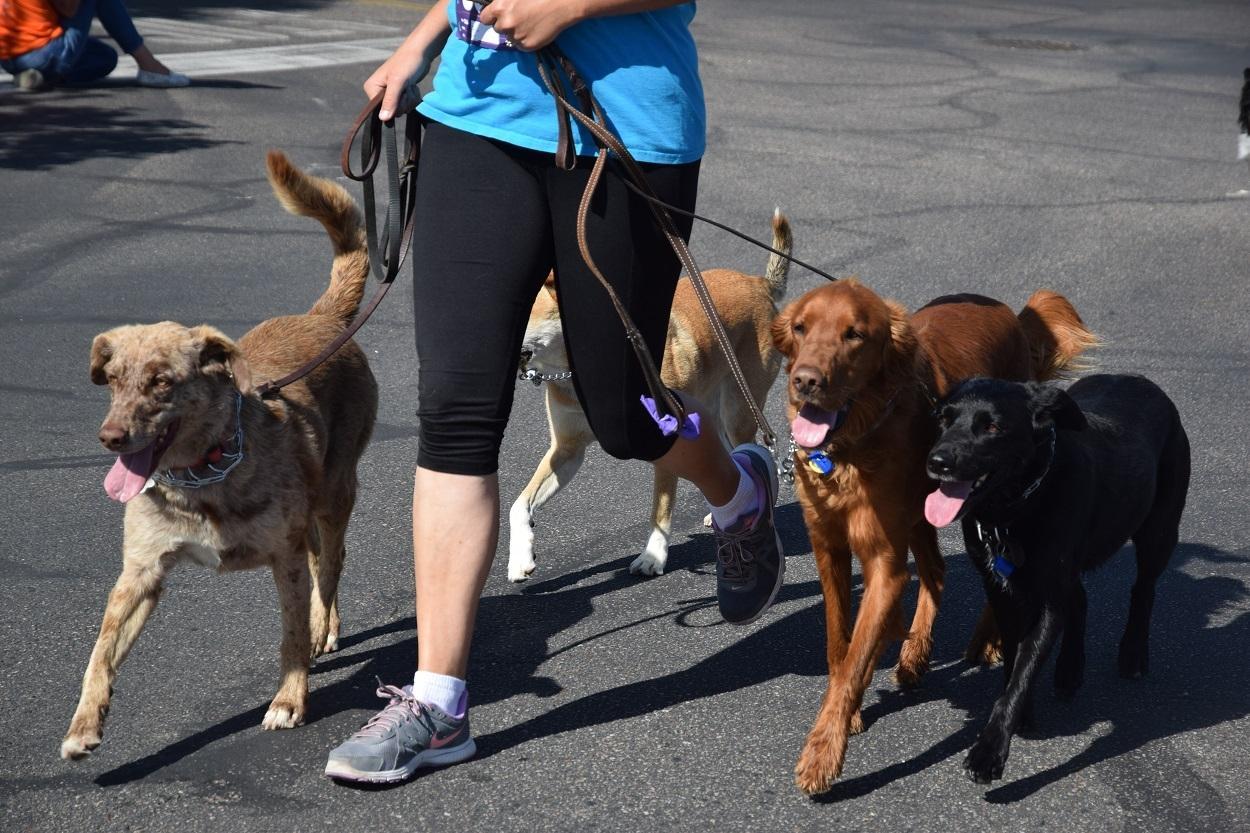 April 15th 2017 - Pedersen Toyota and the Colorado Eagles team up to donate UCHealth Cancer Center on April 15th at the Budweiser Event Center!
Pictured left to right:
Chris Stewart, Eagles President and GM
Mike Croce, General Manager, Pedersen Toyota & Volvo
Erica Seemers, Director Poudre Valley Hospital & Medical Center of the Rockies
DR. Steven R. Schuster, U-C-Health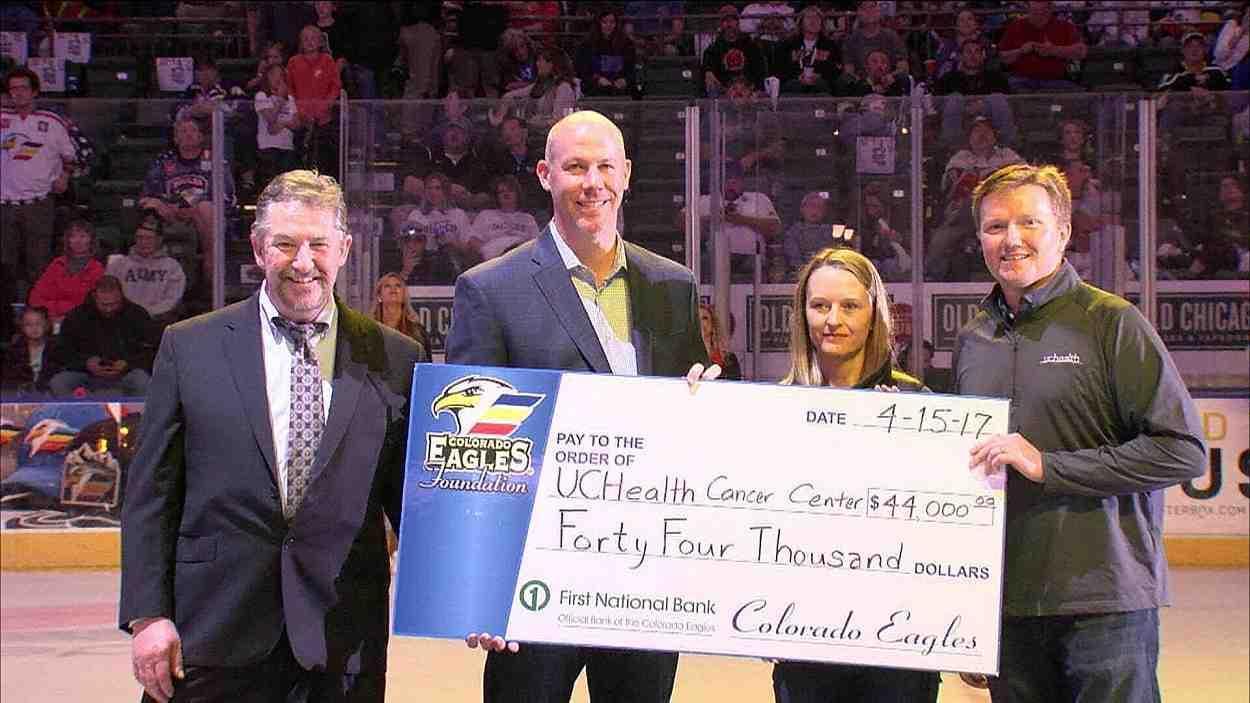 This month Wayne and Lauren Harvey were nearly killed on I70 when high winds pushed over a semi on to their Volvo, crushing their car, and just missing their two daughters Echo and Estelle. Their vehicle was dragged along I-70 more than 100 yards. Lauren and Wayne say Volvo's sturdiness of their Volvo saved their lives.
Pedersen Volvo, Rickenbaugh Volvo, McDonald Volvo, Penkus Volvo, and Sill Terhar Volvo all pitched in to cover what insurance wouldn't and presented the family with a new Volvo along with new car seats.
"I heard that they had started a GoFundMe page because insurance wasn't covering some things, and I didn't think that was okay, so I wanted to make sure that if insurance wasn't going to make sure that they could continue to stay safe, then I would," said Ryan Burr, Sales Manager at Pedersen Volvo.
"I'm just beyond thankful and beyond grateful that people saw our family and thought we were enough to do something like this," Lauren said. The Harvey's hope Volvo's generosity will inspire others to pay it forward.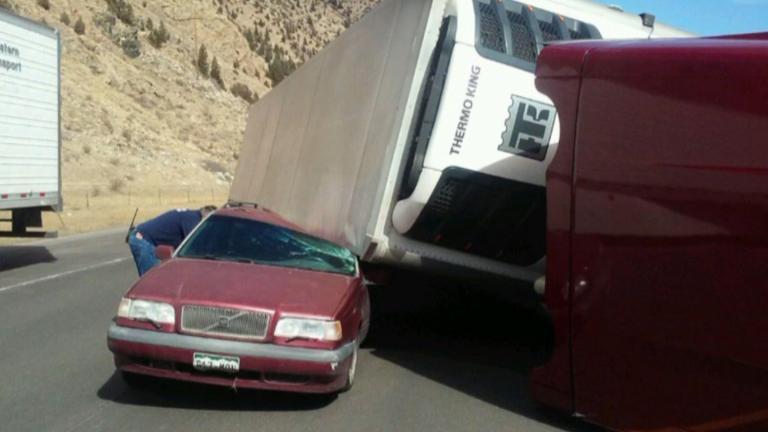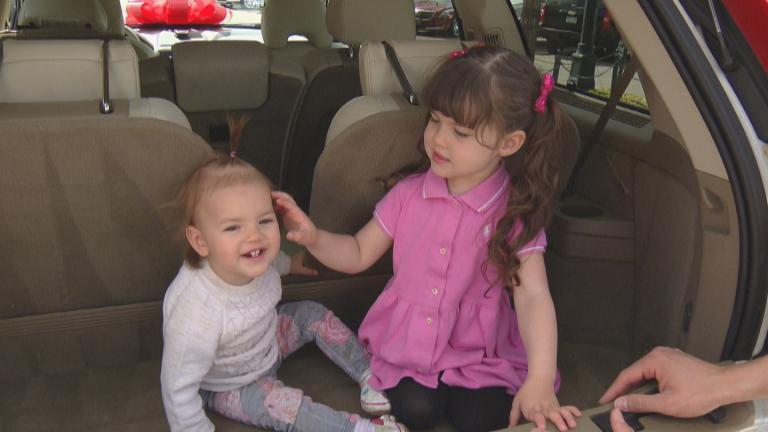 The Annual Teddy Bear Toss at the Budweiser Event Center is on Saturday December 10th during the Colorado Eagles Game. Pedersen Toyota, 107.9. Fans were encouraged to bring a new or gently-used teddy bear or stuffed animal to the arena and toss it onto the ice after the first Eagles goal is scored. All of the stuffed animals collected were donated to children's charities throughout Northern Colorado with the help of 107.9 The Bear and Pedersen Toyota.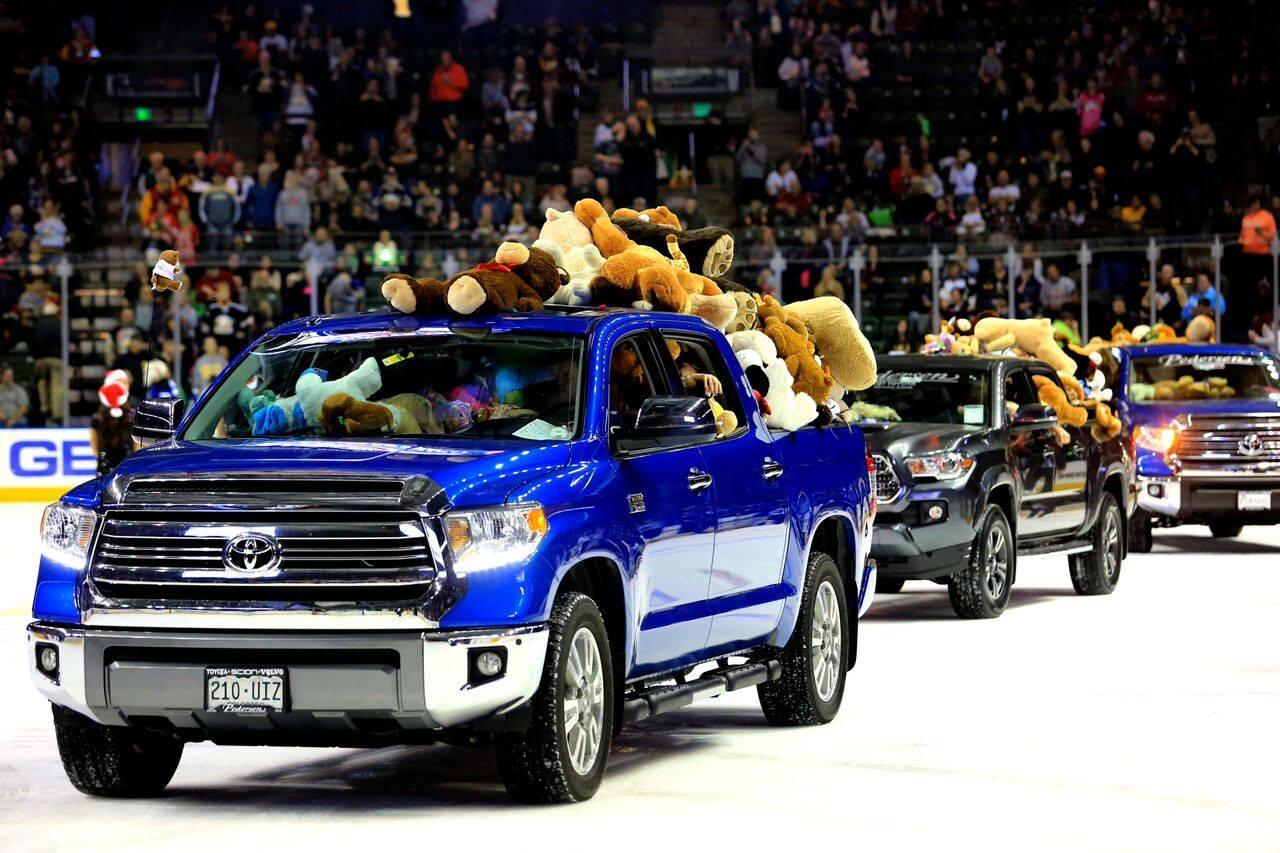 Pedersen is supporting Toyota's philosophy of togetherness and unity and you can too! Launched at this year's Rio Olympics on August 5th and going through August 21st you can help Toyota donate to the United Way! Just post a photo or video on Instagram or Twitter featuring people holding hands and include #LetsJoinHands. Toyota will donate $20 to United Way, up to $250,000, for every single post!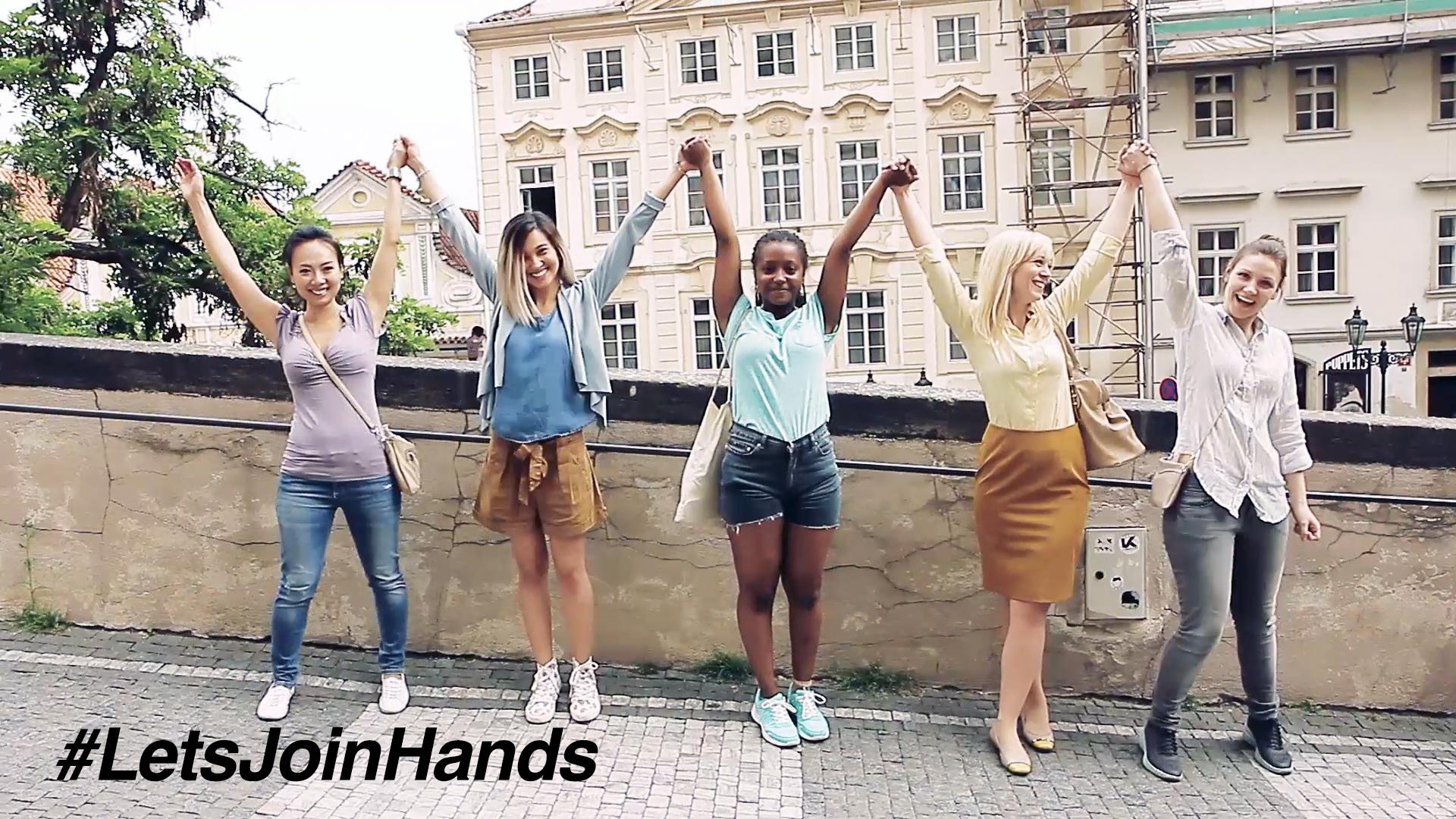 Pedersen Toyota is proud to have participated as a sponsor of the 2016 Larimer County Fair & Rodeo.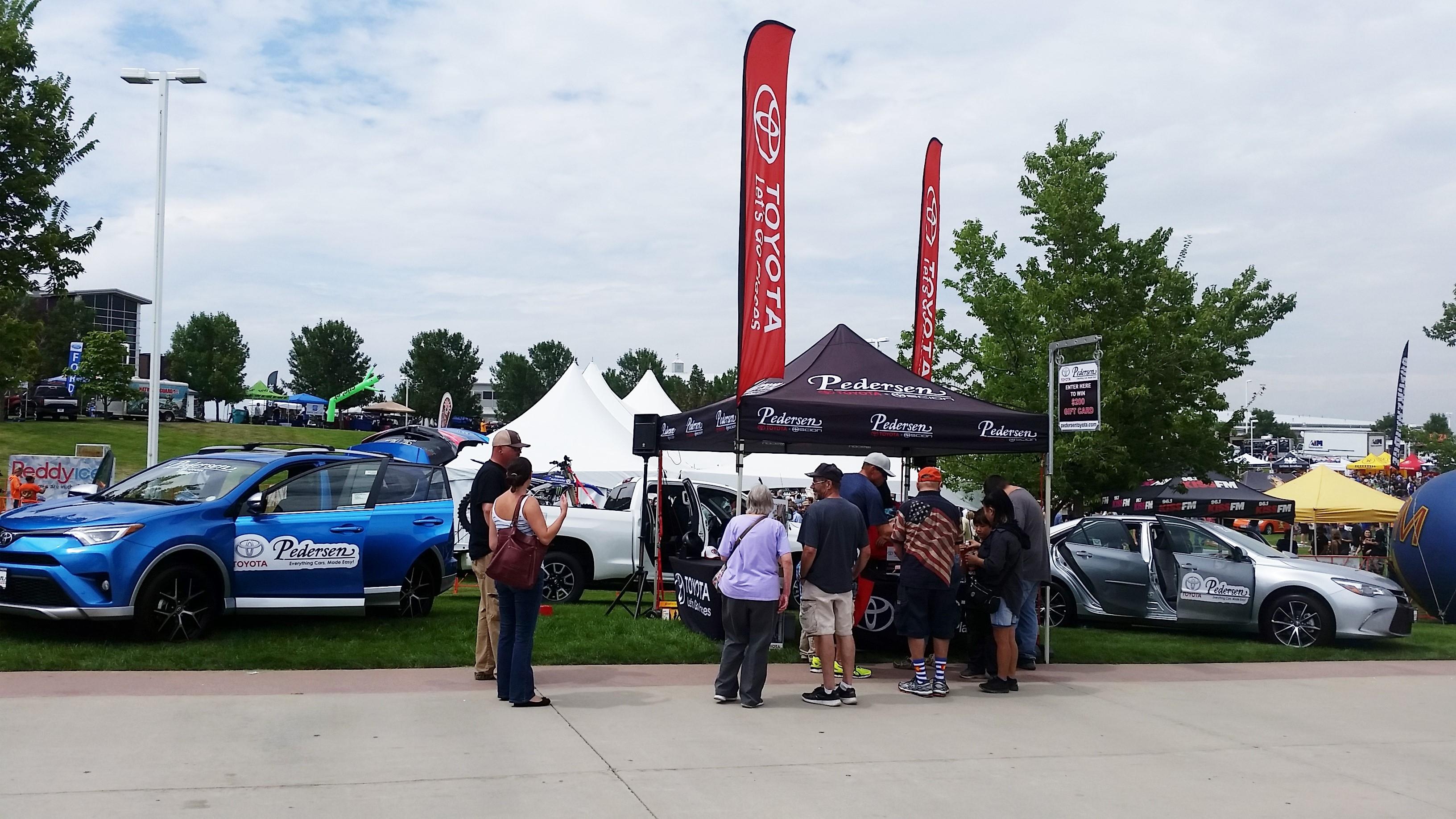 We are very proud to sponsor Colorado's Shea Grogan at the 12th Annual National Junior High Finals Rodeo being hosted in Lebanon Tennessee June 16th. Shea is one of only nine girls representing Colorado. Go Shea!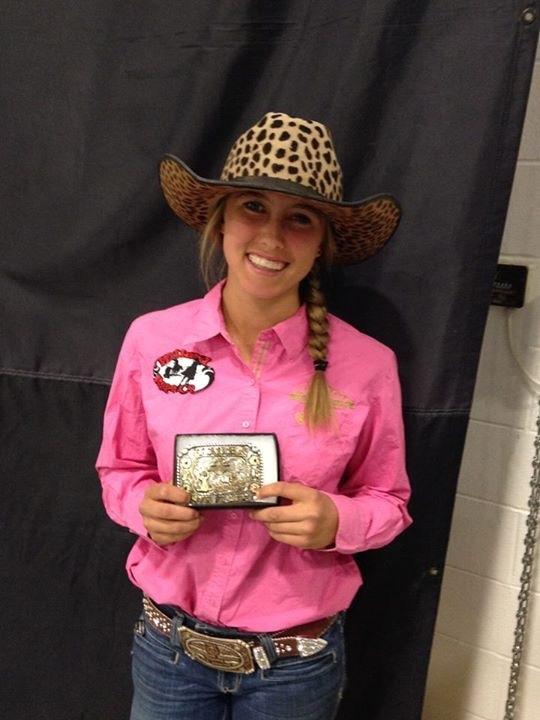 Please congratulate our Toyota Technicians for being given the 2015 Technician Excellence Award! This award recognizes technicians who achieve overall excellence in Customer Retention and Customer Satisfaction. We are so proud!
Pictured, left to right: Desiree Mabe, Chase Steele, Billy Still, Peter Moses, Cody Williams, Kevin Hicks, Anthony Ellis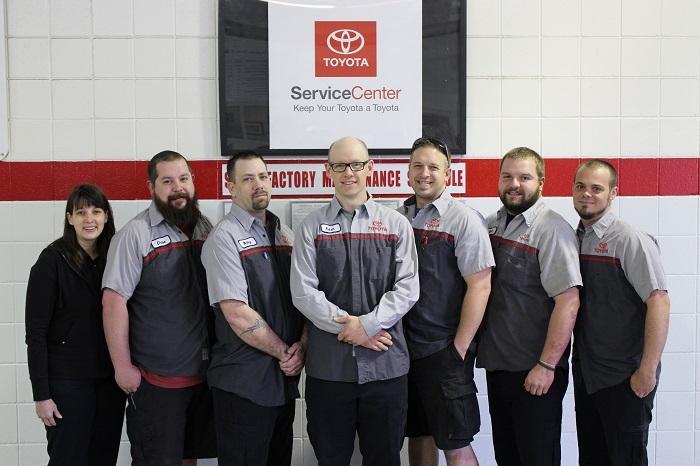 4-17-16 Budweiser Event Center
Pedersen Toyota and the Colorado Eagles join forces to donate $44,000 to the UCHealth Cancer Center on April 17th. So very happy to be a part of the Northern Colorado Community!
Pictured Left to Right:
Kathleen Michie - Oncology Services Program Manager/UCHealth Cancer Center,
Anna Smoot - PVH/MCH Foundation,
Mike Croce - General Manager/Pedersen Toyota,
Ceo Martin Lind - Colorado Eagles,
Chris Stewart - Colorado Eagles Head Coach/General Manager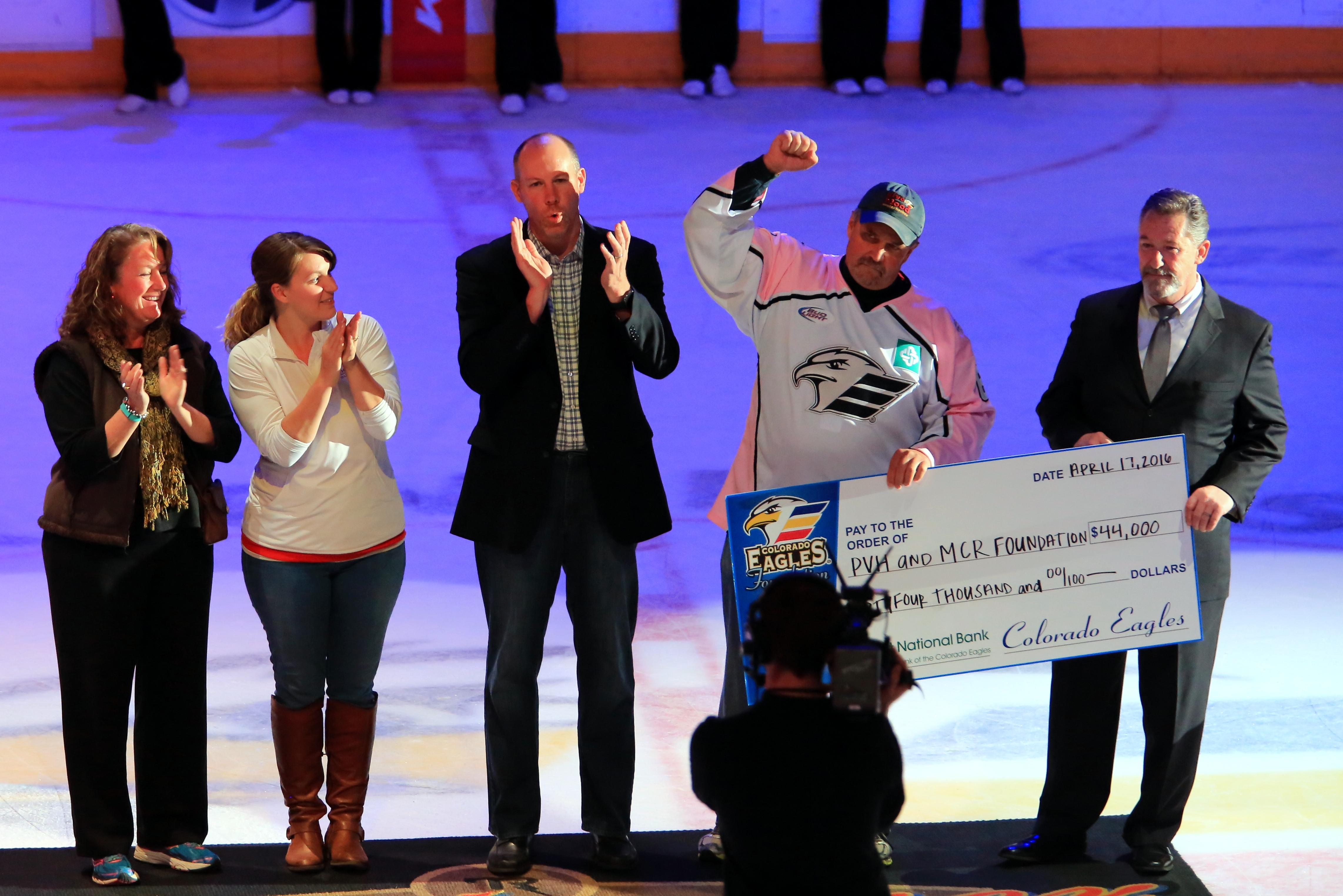 Pedersen Toyota is proud to be a part the 2016 Eagles Pot of Gold game.
This years recipient, Megan Hoover and her family received more than $50,000 which included a Toyota Minivan and free oil changes for life. Pictured below is the Hoover Family.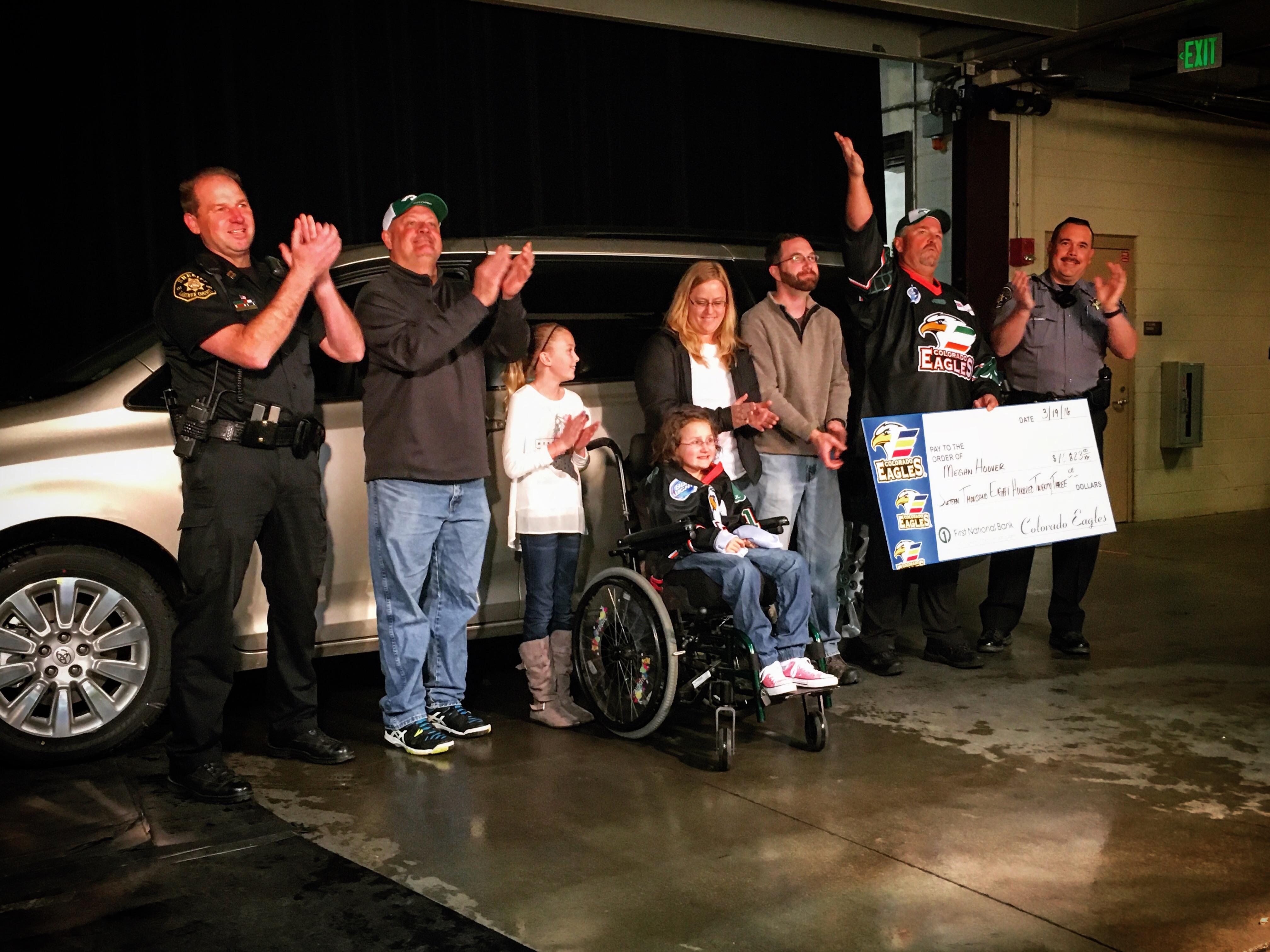 At the 2016 National Pheasant Fest & Quail Classic, the Northern
Colorado Chapter of Pheasants Forever received the No Child Left Indoors® national award, the organization's highest honors for chapters involved in engaging the next generation of hunters and conservationists.
Pictured below left is the Northern Colorado Chapter with Howard Vincent, Pheasants Forever CEO. Below right, a German Shorthaired Pointer presented at the fundraiser for auction.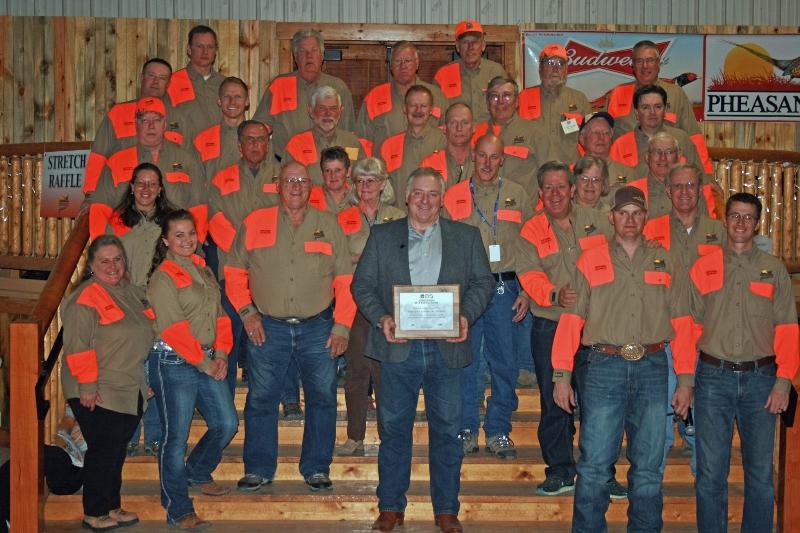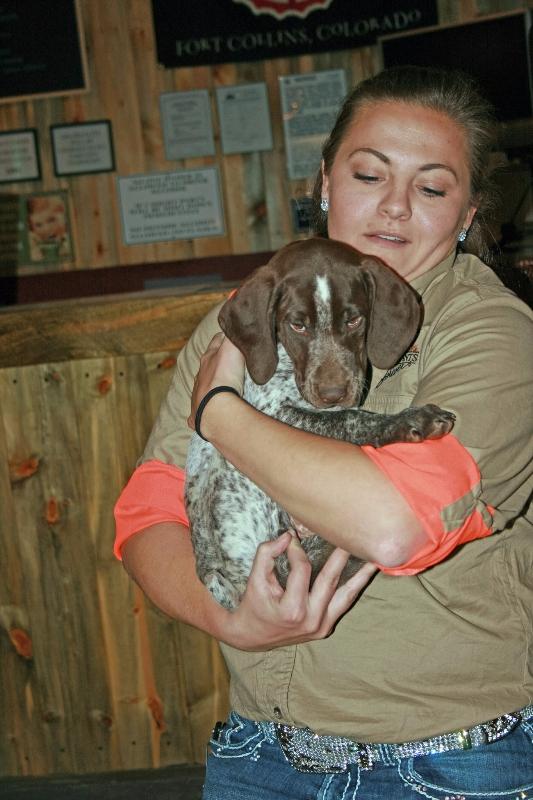 Pedersen Toyota proudly sponsors the 12th Annual Larimer Country Fishing Expo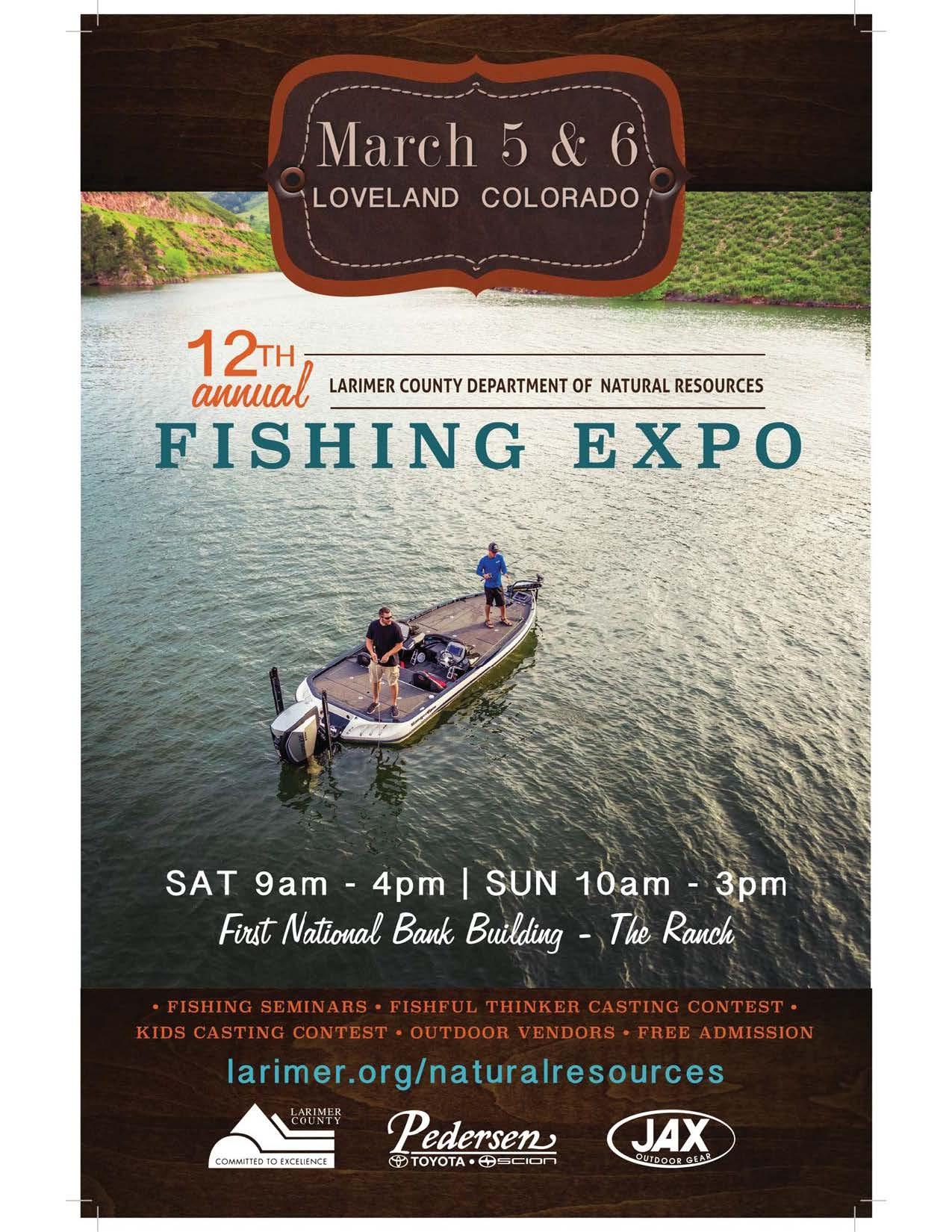 3-5-16 Pheasants Forever Fundraising Banquet
Pedersen Toyota Proudly Supports Pheasants Forever's 25th Anniversary Fundraising Banquet at Ellis Ranch in Loveland Colorado on March 5th.
Pheasants Forever is dedicated to the conservation of pheasants, quail, and other wildlife through habitat improvements, public awareness, education, and land management policies and programs.
Since 1982, Pheasant Forever has conserved over 12 million acres of habitat, and have impacted 300,000 youth and novice hunters through outdoor experiences and educational events!
Locally, the Northern Colorado Chapter of PF prides itself on youth outreach, involving youth in the great outdoors, supporting habitat improvement in Eastern Colorado, and supporting conservation through impacting Federal policy in our Nation's capital. For tickets and more information, call Chad Hepp at 303-709-4450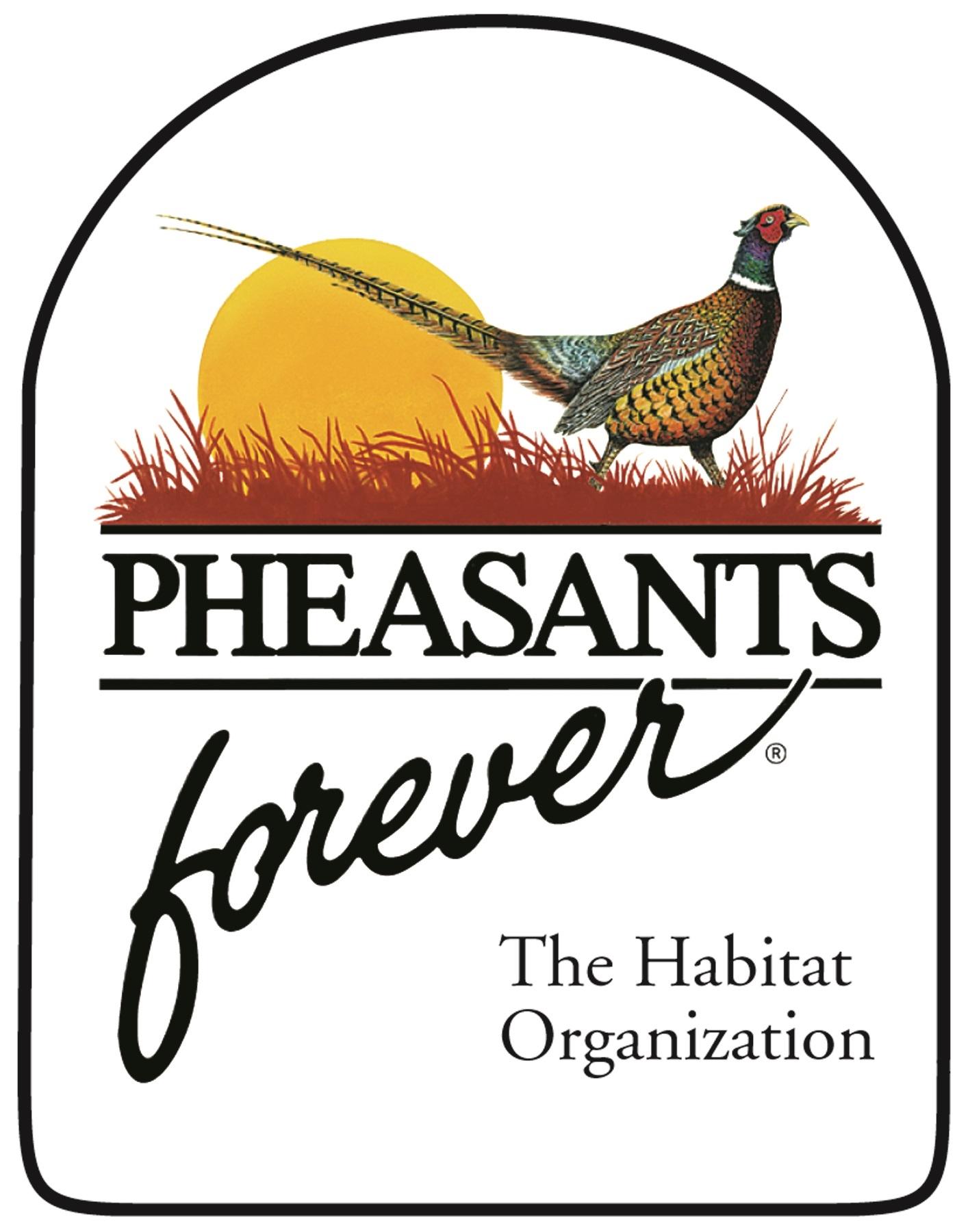 2-20-16 Special Olympics Polar Plunge
Pedersen Toyota proudly supports the 2016 year's Polar Plunge at Horsetooth Reservoir.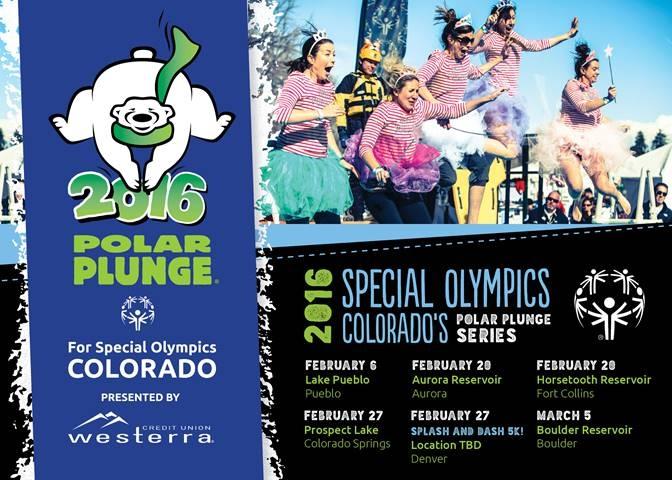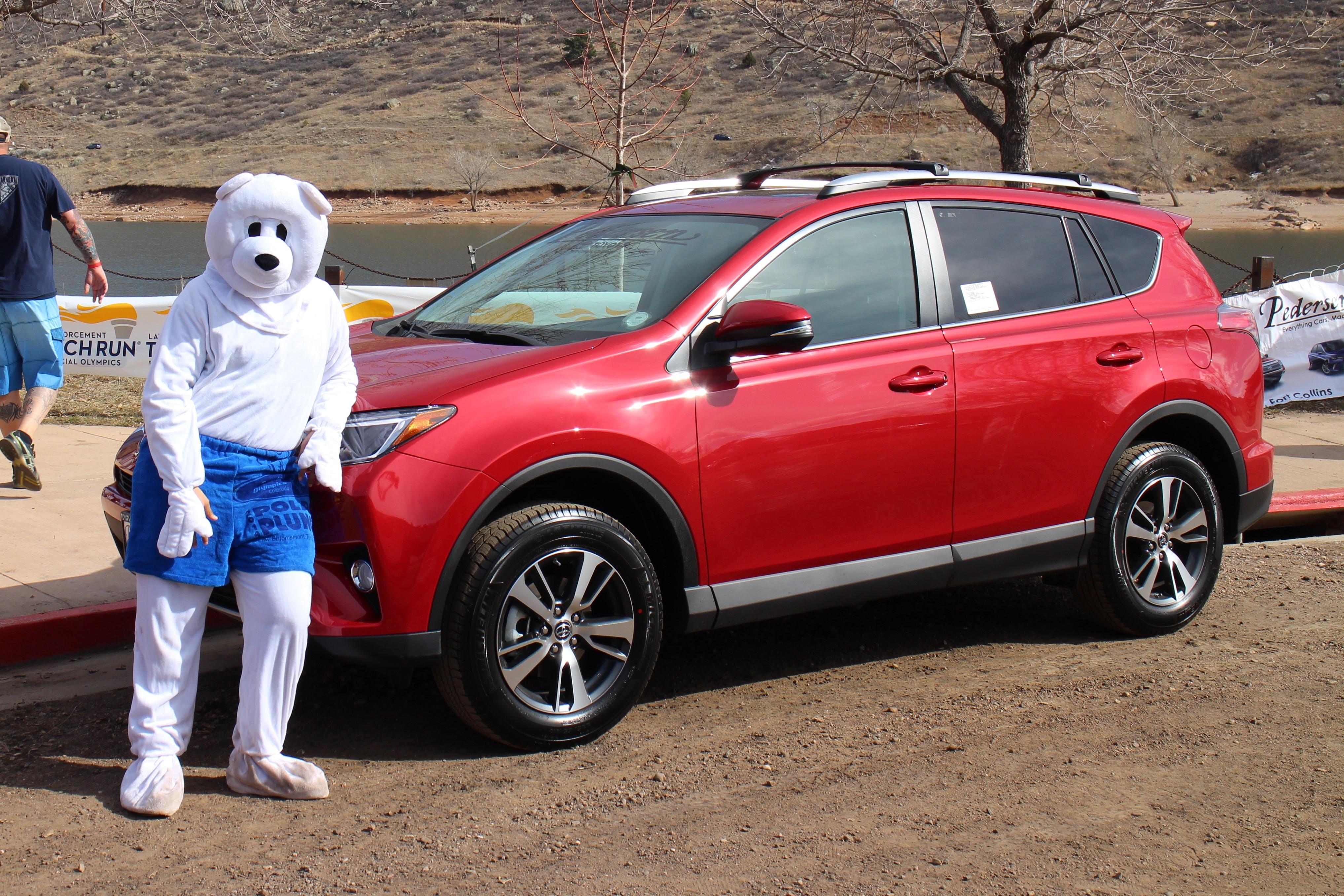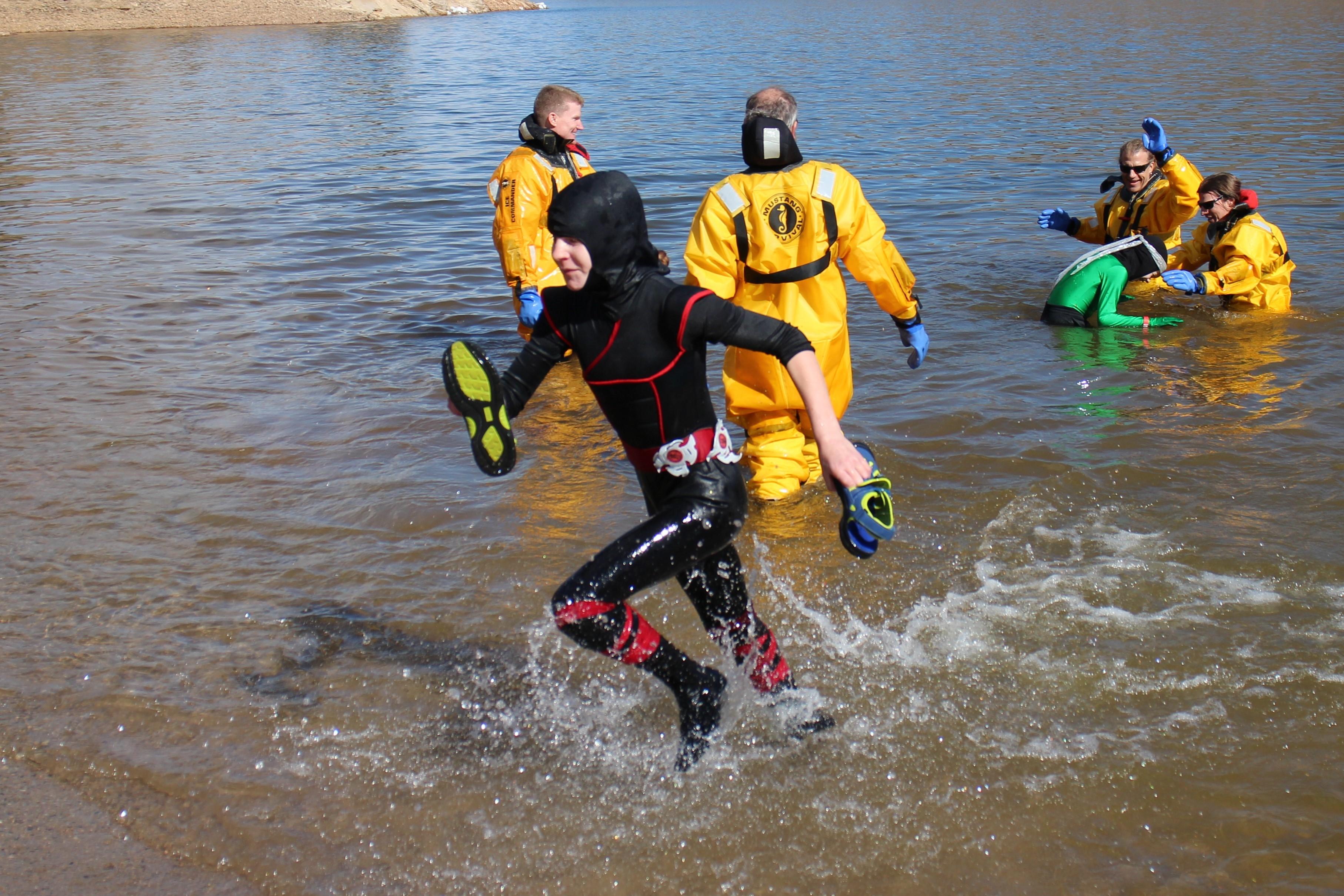 Pedersen Toyota is proud to help support the UCHealth Hockey Fights Cancer Game Weekend and will donate a portion of every new Toyota vehicle sold during the month of January to the Hockey Fights Cancer Charities. Read more details below and stop by Pedersen to see the special edition Lavender jerseys.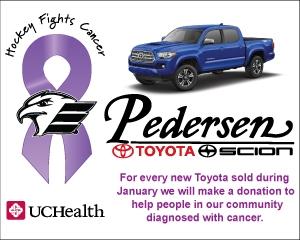 1-15-16 - 1-16-16 Hockey Fights Cancer Weekend
The Eagles will host their annual Hockey Fights Cancer weekend on January 15th and 16th as they take on the Missouri Mavericks at the Budweiser Events Center. This year promises to be another special weekend in helping raise funds for the UCHealth Cancer Center.
For the first time in team history, the Eagles will don special lavender jerseys to raise money for the UCHealth Cancer Center in Fort Collins. The specially-themed jerseys will be worn during both games against the Missouri Mavericks and will then be auctioned off during the contest on Saturday the 16th. In addition to the jersey auction on January 16th, every fan in attendance will receive a UCHealth "Hockey Fights Cancer" T-Shirt.
Lavender was chosen for this year's jerseys, as it is a universally-recognized color of support in the battle of all forms of cancer. It encompasses all forms of cancers, which millions of brave individuals have fought and continue to live with every day. Much the same, the UCHealth Cancer Center in Fort Collins is designed to tackle all forms of cancer and to support the entire wellness of the patient, throughout the course of treatment. It also allows patients to have one-door access to a variety of care and treatment, all under one roof.
Pedersen Toyota in Fort Collins is joining the effort to raise funds this year by donating a percentage of each new Toyota sold during the month of January to the Hockey Fights Cancer Campaign. You can also see the special edition lavender jerseys on display at Pedersen Toyota during the month of January.
The Colorado Eagles have made the UCHealth Cancer Center its primary focus for fundraising over the past eight years, from the initial conception of the project to what is now a fully-operational, state-of-the-art facility, right here in Northern Colorado. The Eagles have specifically dedicated their efforts to the completion of the Fitness and Rehabilitation Facility within the Cancer Center. This specialized area will allow those who are undergoing or who have recently undergone treatment to regain their strength through exercise, nutrition and one-on-one training and guidance.
Great seats are available for both games, order yours today by visiting the Budweiser Events Center box office, online at ComcastTix.com or by calling the Eagles ticket office at (970) 686-SHOT (7468).
Eagles Fans and Pedersen Toyota Donate Over 5,000 Teddy Bears to Local Children
WINDSOR, Colo. – Pedersen Toyota Fort Collins, The Colorado Eagles, and 107.9 The Bear would like to say a very heartfelt "Thank You" to the great Eagles fans who helped make the 3rd annual Colorado Eagles "Teddy Bear Toss" last Saturday an overwhelming success and a new Eagles record!
After defenseman Adrian Veideman scored a power-play goal with 4:11 left in the first period, fans threw 5,119 teddy bears and stuffed animals onto the ice. The 5,119 stuffed animals donated now sets a new record for the Teddy Bear Toss at the Budweiser Events Center! All of the bears were collected and distributed to the Child Advocacy Resource Education, United Daycare Center and the Kids Matter Project.
The success of this year's Teddy Bear Toss was another reminder that Eagles fans truly are the best fans in hockey! Thank you again for brightening the holidays for thousands of local children in need.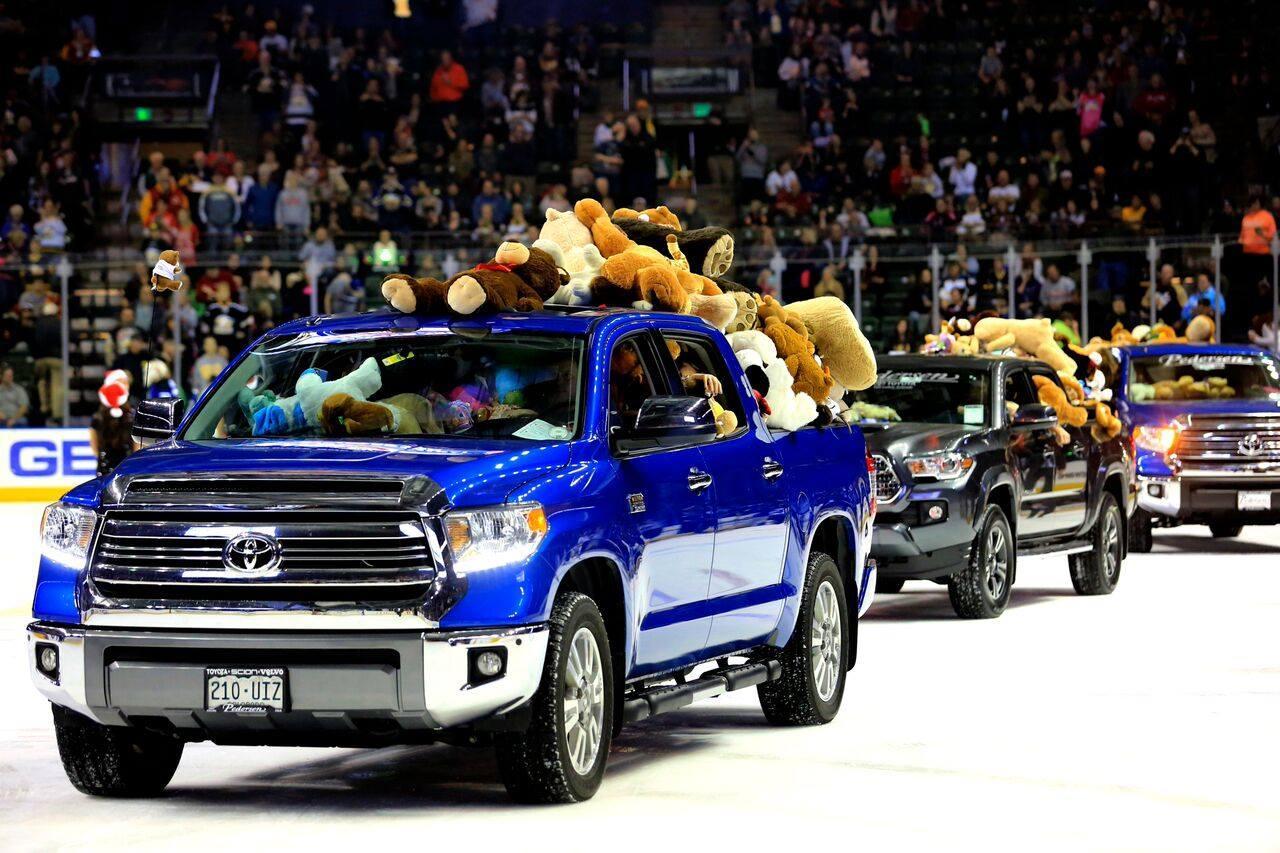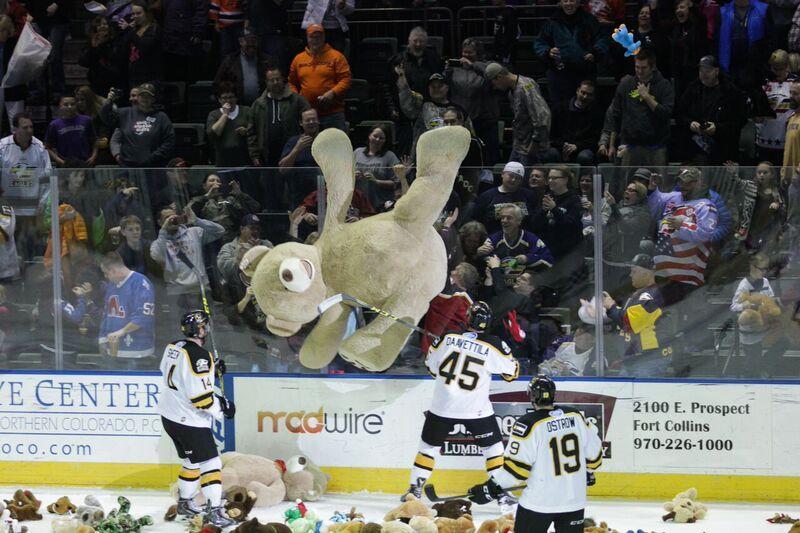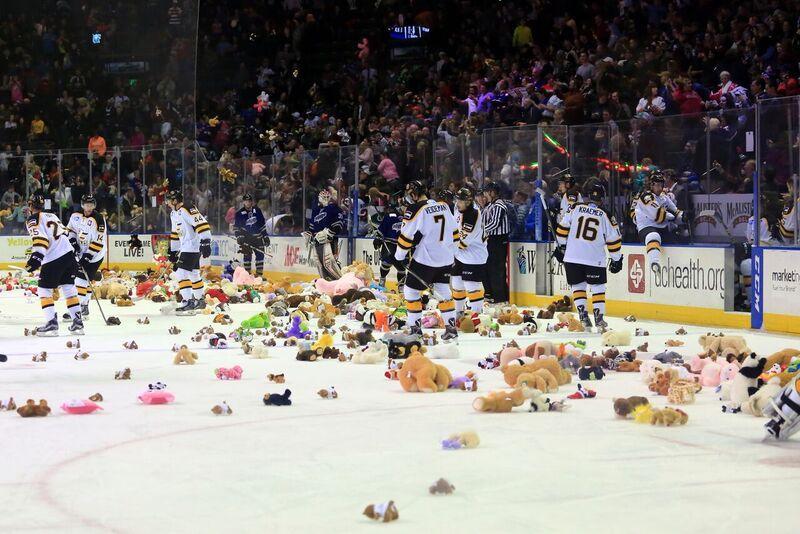 12-12-15 Annual Teddy Bear Toss!
This year's Annual Teddy "Bear Toss" at the Colorado Eagles game will be December 12th 2015. Pedersen Toyota is accepting your donated bears now through December 12th. All the bears collected will be donated to local charities that will get them in the hands of kids in need on Christmas Day.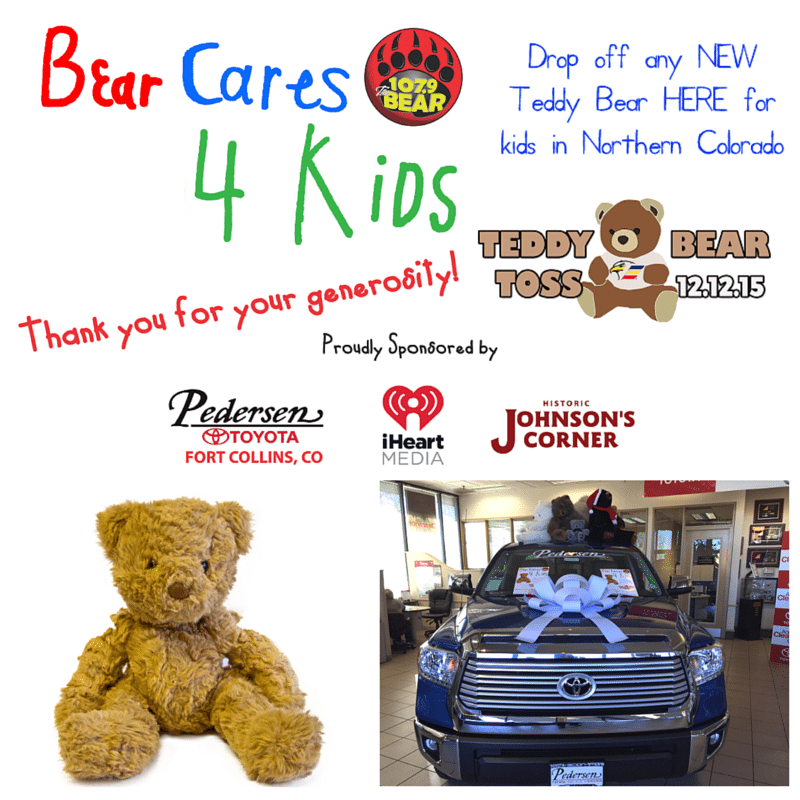 It was a great time at the Colorado State Rams football game as contestants competed for the chance to win a brand new Toyota Tacoma!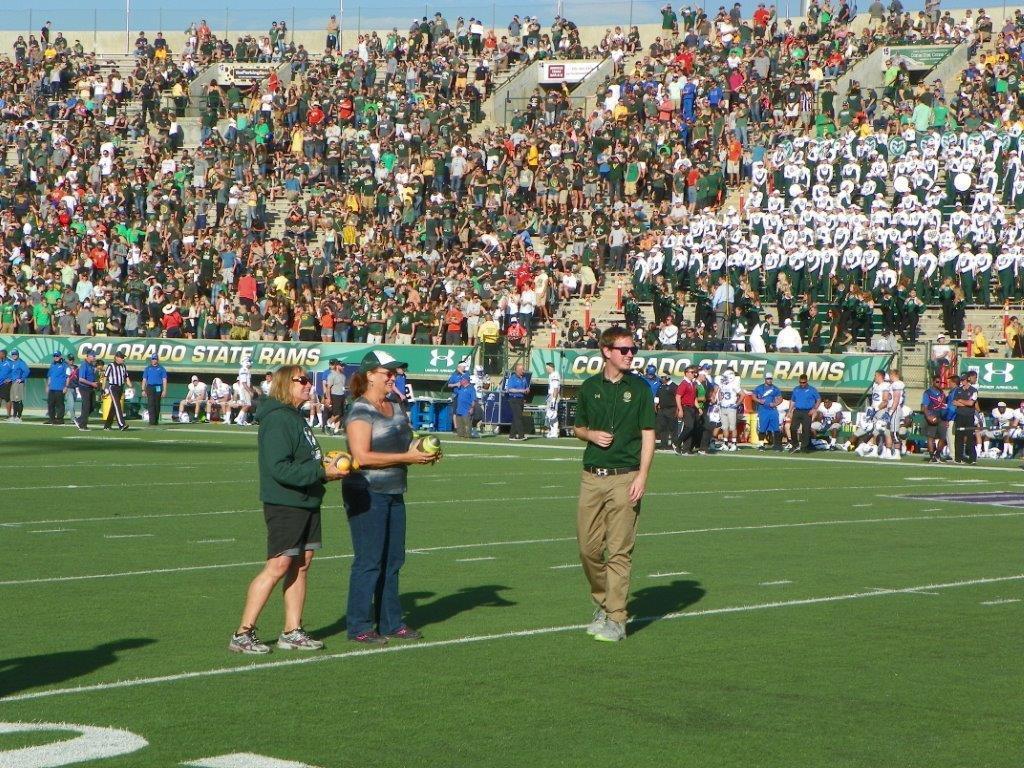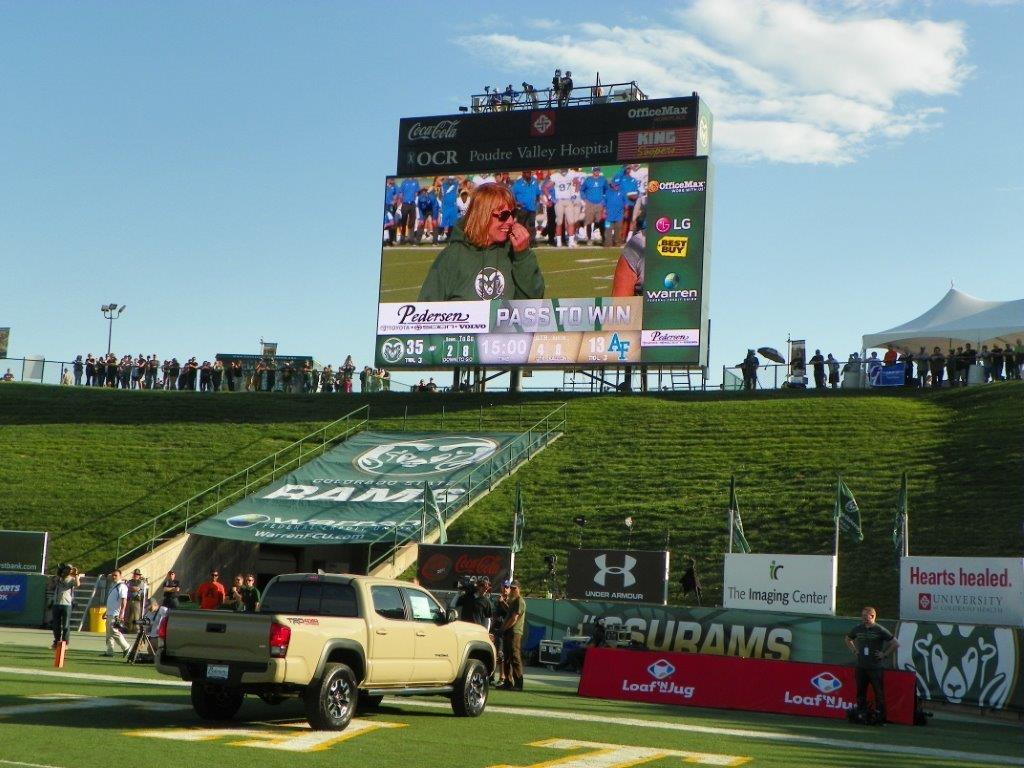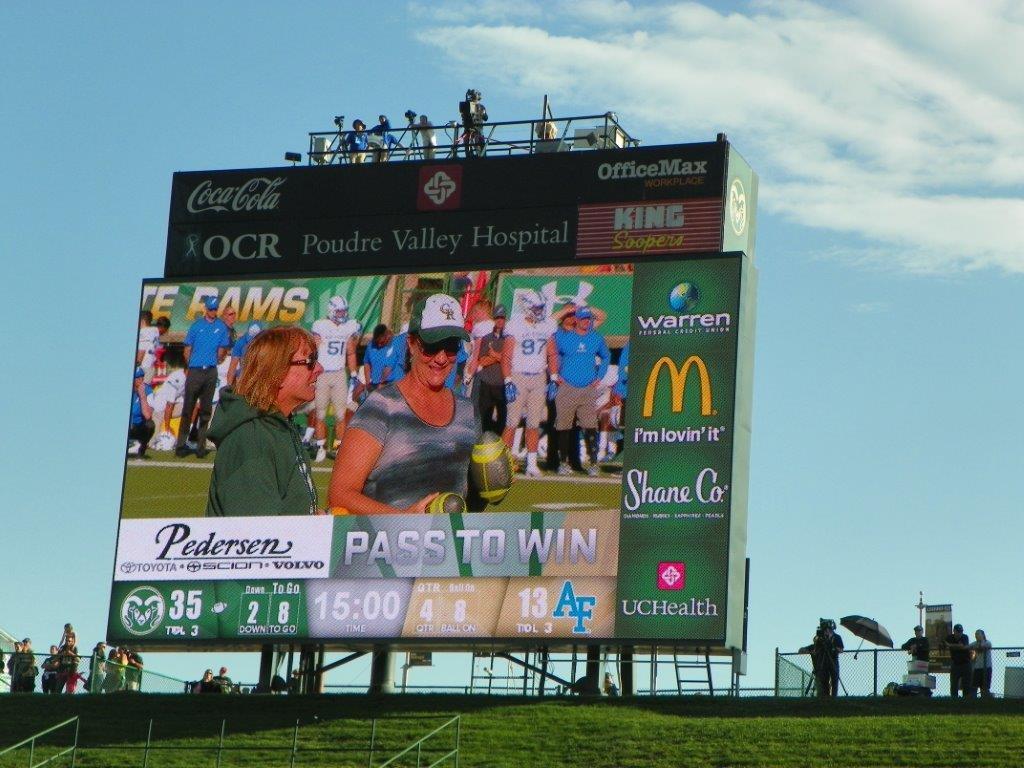 PGA Professional Winston Howe hosted the final team event at Mariana Butte and the Pedersen Cup went to Ptarmigan CC for 2015.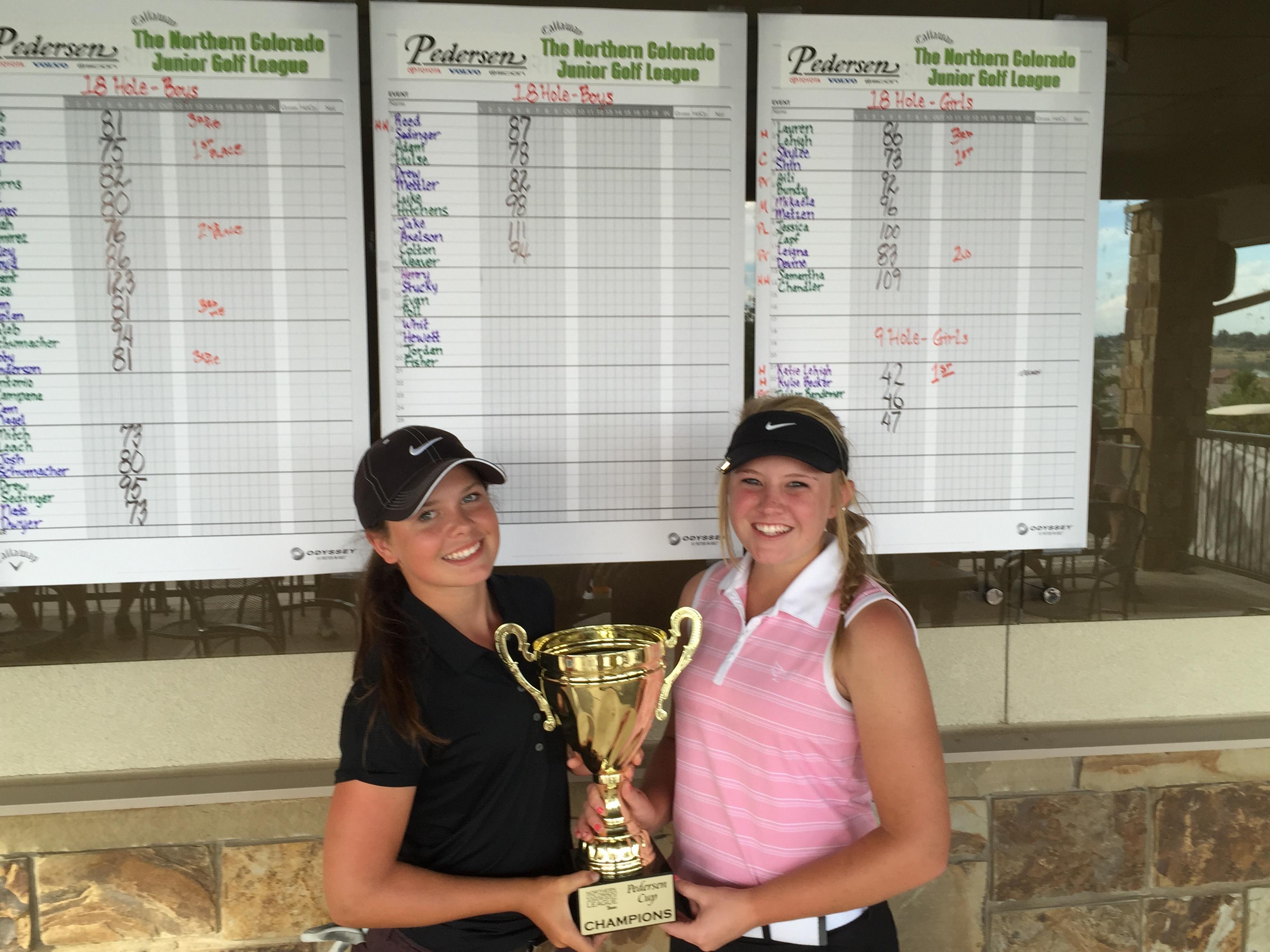 Pictured (left to right): Katie Lehigh and Kylie Becker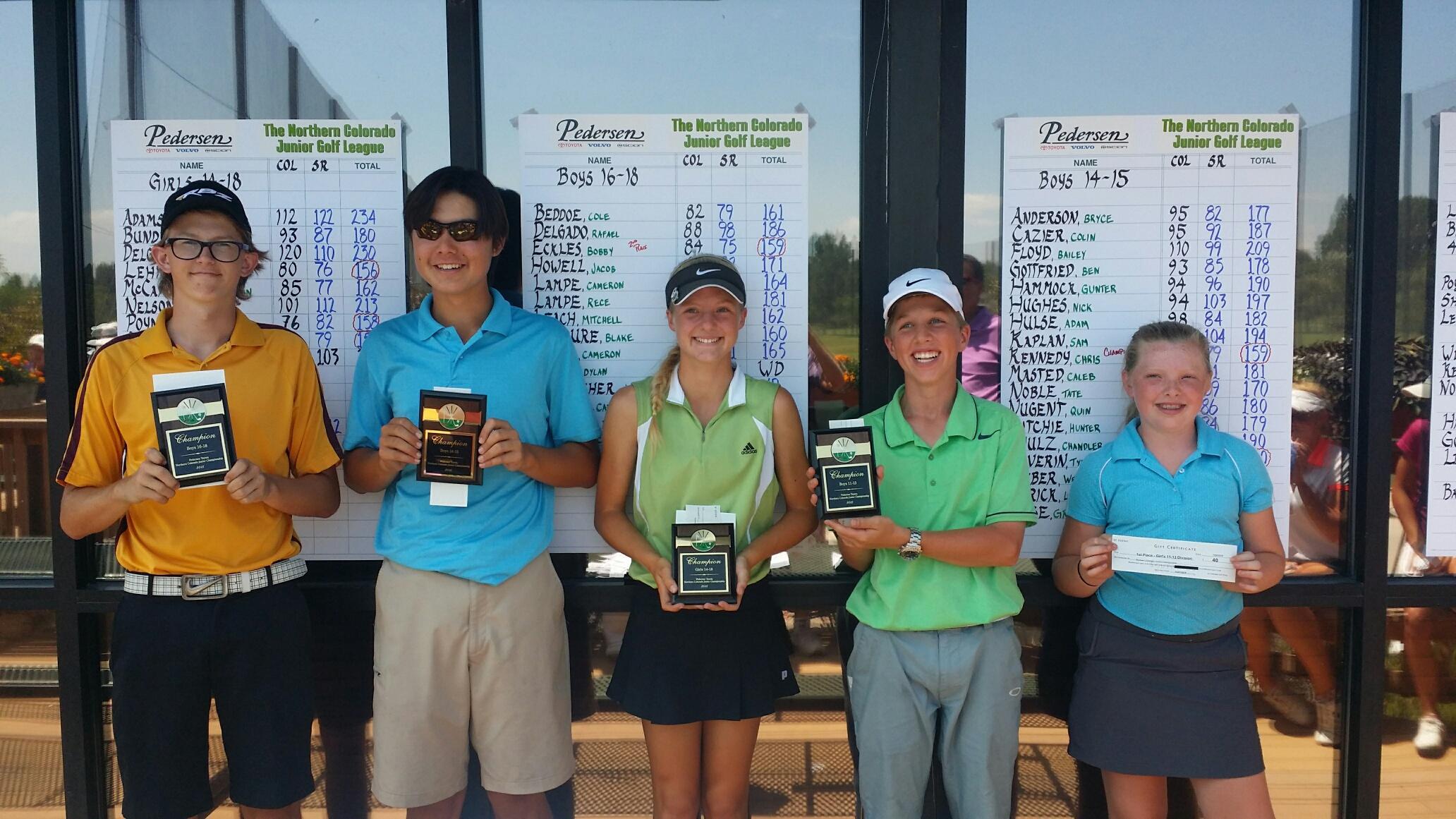 Pictured (left to right): Nick Visocky winner ages 16-18, Chris Kennedy winner 14-15, Lauren Lehigh winner 14-18, Sam Hammock winner 11-13 and Taylor Bandemer winner 11-13.
The results are in.
The overall points winner for 2015 in the Pedersen Toyota Northern Colorado Junior Golf League is:
Team Ptarmigan with a total of 130 points for the season
And the rest…
Final Results for the day at Mariana Butte:
9 Hole Girls Scramble Team:
1st Kylie Becker - Harmony: 42
1st Katie Lehigh - Harmony: 42
18 Hole Girls Stroke Play:
1st Skylee Shin - Collindale: 73
2nd Legha Devine - Ptarmigan: 83
3rd Lauren Lehigh - Harmony: 86
9 Hole Boys Scramble Team:
1st Tanner Arkin - Ptarmigan: 35
1st Will Leary - Ptarmigan: 35
2nd Jake Buckendorf - Harmony: 36
2nd Owen Cornmesser - Harmony: 36
3rd Thomas Neely - Mariana Butte: 37
3rd Ian Fenn - Mariana Butte: 37
18 Hole Boys Stroke Play:
1st Cameron Nagel - City Park 9: 75
2nd Micah Ramirez - Mariana Butte: 76
3rd Noel Thomas - Collindale: 80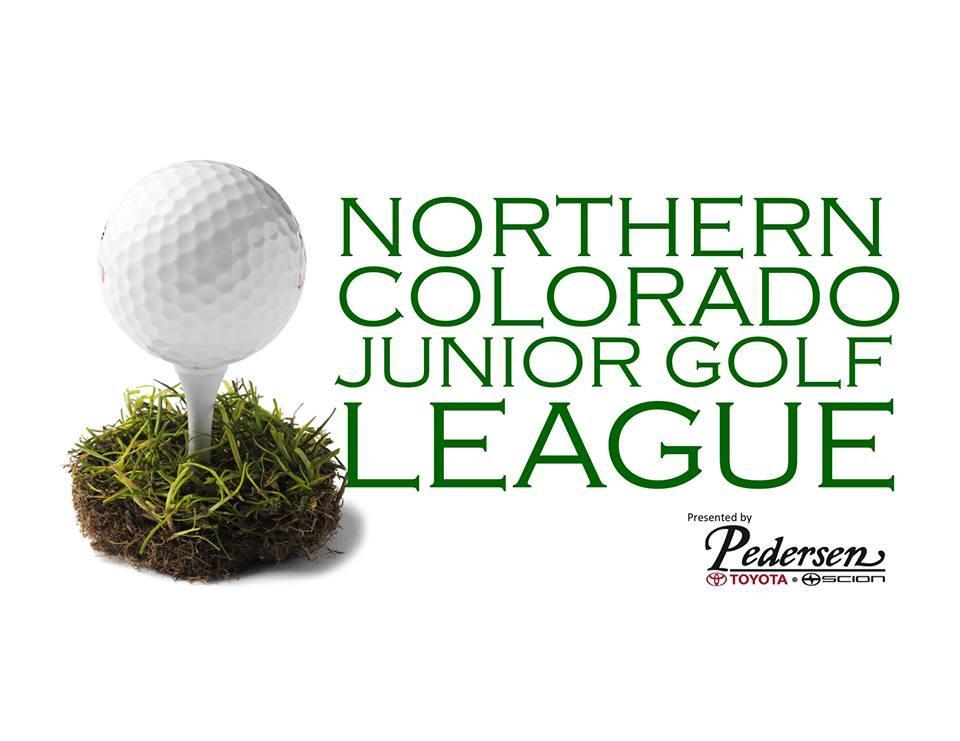 07-01-15 Junior League Plays First Round Competition 
The Northern Colorado Junior Golf League presented by Pedersen Toyota, completed its first week of competition at Boomerang Golf Links this week. The league is comprised of teams from 11 area golf courses with both boys and girls divisions in each category. The 8-13 year olds play a team scramble for 9 holes with low totals scored. The 14-18 year olds play stroke play for 18 holes. Each player is awarded one participation point and the top three finishers from each team in each division are awarded 10, 9 and 8 points respectively. There is a season long tally of the total points from each team and the winner is awarded the traveling trophy named the Pedersen Cup. Mariana Butte GC won last year's competition.
Garnering top honors in the 14-18 year-old boys division in stroke play was a tie between Jack Vance from Highland Hills GC and Tyler Severin from Boomerang GLwith a score of even par 72 for the 18 holes. Third place went to Connor Burke from Boomerang who was one stroke back of them. In the girls older division Anna Achziger from Greeley CC shot a 92 to win with Katie Lehigh of Harmony Club finishing second and Kenzie Smith from Pelican Lakes GC came in third.
The 8-13 year old division for the boys in a scramble format over 9 holes was close all the way. Riley Cogan and Cameron Poll from Mariana Butte GC finished 1st with a score of 37 and one stroke back were Luke Alfonso and Samuelson from Harmony Club then with a 39 Keller Gonzales and Tanner Arkin from Ptarmigan CC finished third. 39 total strokes for first place by the 2-man team from Mariana Butte, Adrian Tabin and Elliott Gitt, the team of Austin and Ryan Magnuson from Boomerang and Sam Kaplan teaming with Jake Johnston of Collindale. The 8-13 year old division for the girls was won by the pair of Tara Toepke and Jamie Banghart firing a team scramble score of 42. Second place went to Sunny and Sydney Taylor from Fort Collins CC with a 47 and Taylor Bandemer and Collette Bangma with a 48.
Pedersen Northern Colorado Junior Golf League's leading teams are Ptarmigan with 32 points, Harmony Club with 24 points and Boomerang GL with 22. Area golfers from all the participating clubs have donated money to the program through bag tag sales which enhance the events and will help finance the Pedersen Northern Colorado Junior Golf Championship which is being held this year at Collindale and Southridge Golf Courses on July 28 and 29. This event is open to all junior players ages 10-18 years old who register at Collindale prior to the week of the event.
07-01-15 through 07-03-15 - Life, Liberty and "Purr" Suit of Adoption Event.
Pedersen Toyota is proud to partner with the Larimer County Humane Society to help more than 6,000 animals per year find a forever home. This Special Adoption Event is sure to help you find the "Purrfect" match for a new furry family member!
Event Information
Where: 6317 Kyle Ave, Fort Collins, 80525
When: July 1st, 2nd & 3rd
Hours: 11:00am to 7:00pm
Contact: 970.226.3647/larimerhumane.org
In total 48 animals were adopted at this purrfect adoption event; 15 dogs, 29 cats and 4 small mammals including Princess pictured below!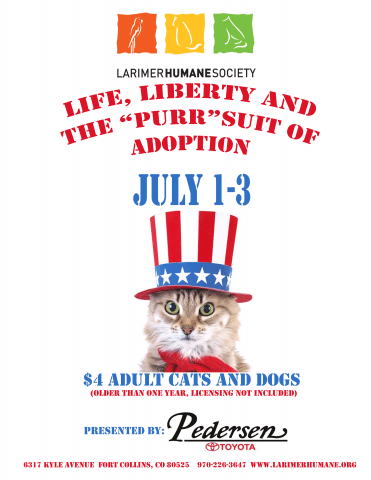 06-13-15 - Pedersen Toyota is the proud sponsor of the Hope Lives Pink Boa 5K Run
The Hope Lives Breast Cancer Support Center was founded in 2001 by Lydia Dody, a Fort Collins businesswoman who had battled breast cancer. After her recovery, Lydia wanted to ensure that the approximately 200 women in Larimer County and Windsor, CO diagnosed each year receive complete post-diagnosis support and care. Our Mission is to Support and Strengthen those touched by Breast Cancer by providing Care, Guidance & Education.
Event Information
Pink Boa 5K Run
June 13, 2015
Race Begins at 8:30am
Front Range Village
2720 Council Tree Avenue
Fort Collins, CO
All participants receive a performance quality sport-tec race shirt, pink feather boa and goodie bag. Event also includes a vendor fair, Prettiest Pup in Pink contest and free Kid's Fun Run! For more information call 970-225-6200 or click:
http://www.hopelives.org/#!events/c149w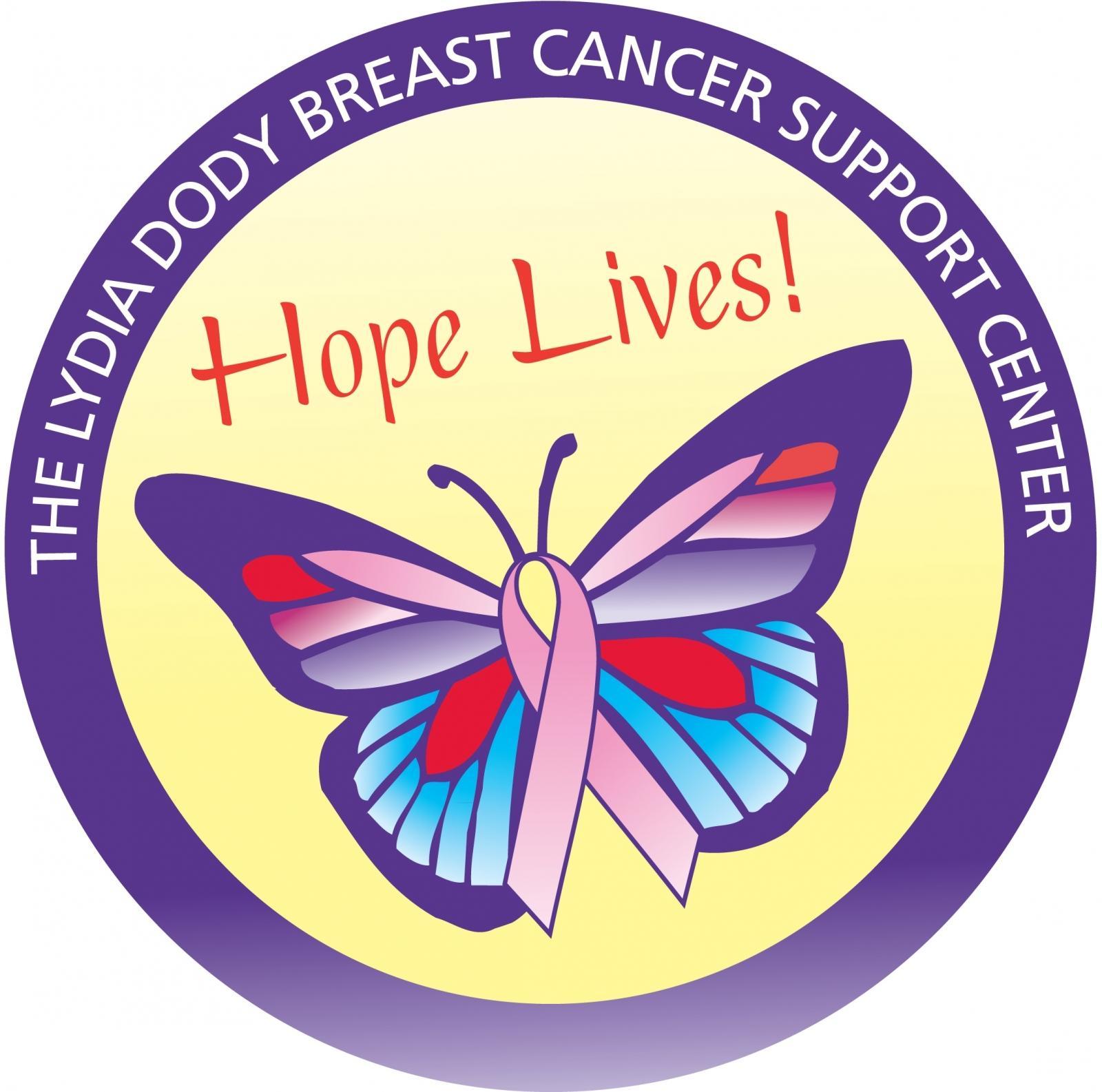 06-12-15 through 06/14/15 - Pedersen Toyota is proud to sponsor The Taste of Fort Collins
The Taste of Fort Collins (TFC) is a Northern Colorado Tradition- a community celebration with family-friendly activities that are perfect for Northern Coloradoans' active lifestyle. TFC continues to benefit the Eyeopeners Kiwanis Club of Fort Collins Foundation in its charitable activities in the community. This three-day festival offers attendees food from local and national restaurants, entertainment from regionally and internationally acclaimed musicians, and an eclectic display of fine artisans work as well as the region's best crafters. Check out top performing artists on the Pedersen Toyota stages at this year's event including Andy Grammer, The Mowgli's, Atlas Genius, Smash Mouth and other local bands.
For more details: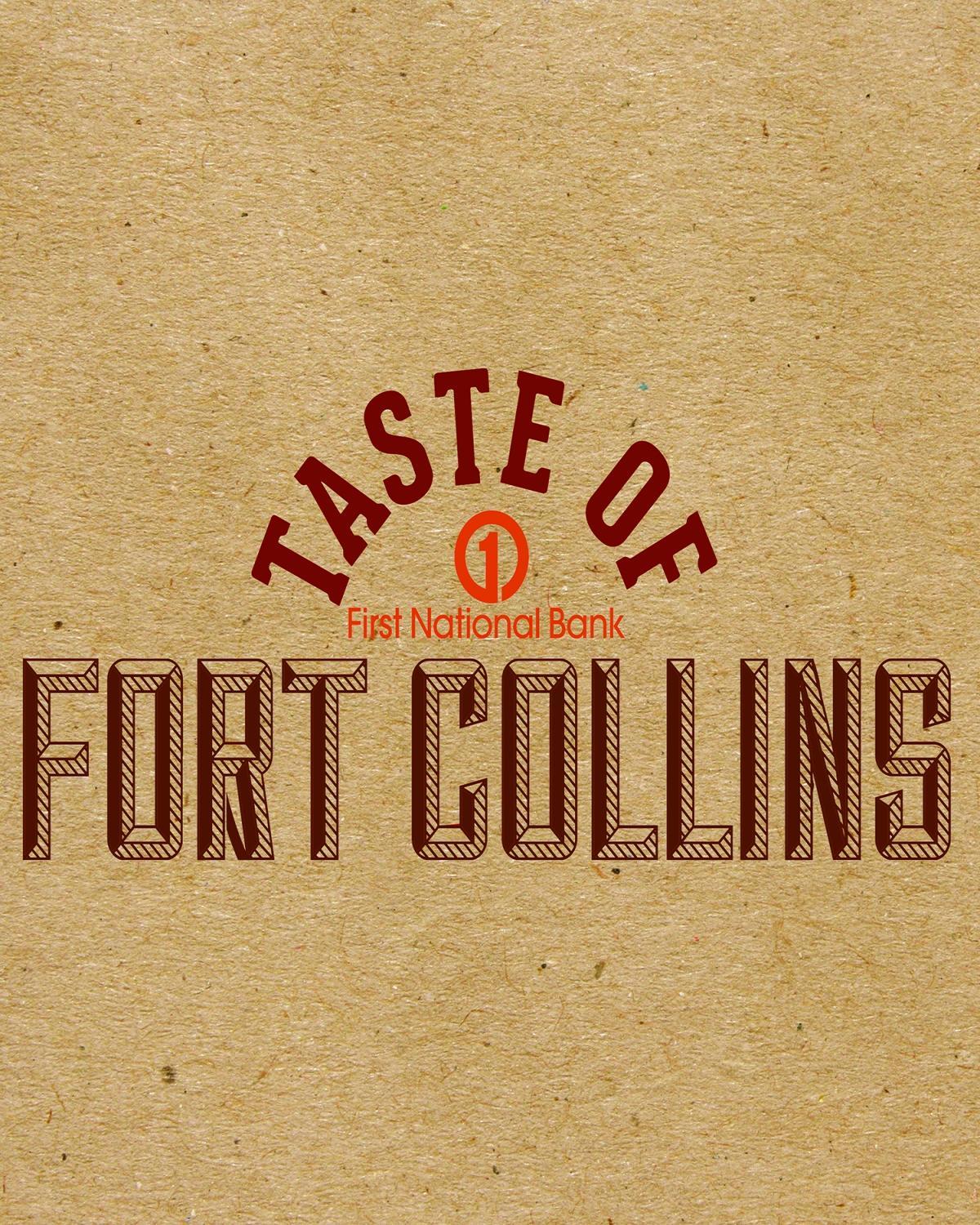 05-29-14 - The Pedersen Cup
The Northern Colorado Junior Golf League begins its second season in mid-June, and welcomes all junior golfers age 10-18 to compete in the month long league on 12 courses, including Fort Collins Country Club.
The league is split into two divisions. The first is made up of players age 10-14, who play a scramble format in two-person teams. The second is for golfers age 15-18, who play individual stroke play.
Overall season winners receive the Pedersen Cup, sponsored by Pedersen Toyota.
For more information, or to register, contact your local PGA professional or visit the Northern Colorado Junior Golf League's Facebook page.
03-04-14 - Eagles, Pedersen Toyota to Donate $20,000 to Construction of Poudre Valley Cancer Center
LOVELAND, Colorado - The Colorado Eagles and Pedersen Toyota are proud to announce a joint check presentation to the Poudre Valley Hospital Foundation during the second intermission of tonight's game at the Budweiser Events Center.
The donation -- in the amount of $20,000 -- will go toward the completion of the Poudre Valley Hospital Cancer Center currently under construction at the intersection of Harmony Rd. and Timberline Rd. in Fort Collins. The state-of-the-art complex will help patients and survivors of all forms of cancer in their fight against the disease. "Our goal with the center is to provide a better cancer-care experience that meets the needs of patients in one location," said Kevin Unger, president and CEO of Poudre Valley Hospital. "We will have everything centralized, from diagnostic services to treatment and care to survivorship."
University of Colorado Health broke ground in January of 2013 on the comprehensive and integrated cancer center in Fort Collins. It is designed to provide patients in the community with one-door access to cancer treatment, research, support and survivorship services.
The outpatient facility will be about 30,000 square feet and is currently estimated at $11 million. The facility is set to see its first patient for treatment on June 9, 2014.
Funds were raised through the auction of game-worn, pink Eagles jerseys (worn in October during Breast Cancer Awareness Month) which helped to raise $15,000, as well as a portion of every new Toyota vehicle sold at Pedersen Toyota during the month of October.
All three organizations would like to thank those who helped raise the funds through their purchases of jerseys and vehicles!
03-18-15 - Pedersen Toyota Receives 2014 Toyota President's Award for 9th Consecutive Year
Award marks 18th time overall that Pedersen has received this highest dealership honor from Toyota Motor Sales, U.S.A. Inc
Fort Collins, CO: March 18, 2015
Pedersen Toyota of Fort Collins today announced that it has received Toyota's prestigious President's Award for the 2014 year that recognizes Toyota's top performing dealers across the nation who demonstrate a commitment to maintaining Toyota's highest standards for sales excellence and customer satisfaction.
"We are extremely proud to be recognized by Toyota with the President's award for the 9th consecutive year which highlights our ongoing commitment to providing the highest level of customer service in our parts, service and sales operations," said Mark Pedersen, President and General Manager of Pedersen Toyota. "We would also like to thank our employees and our customers for supporting our organization and helping make this prestigious achievement possible."
To qualify as a President's Award winner, Toyota dealerships must excel in a number of different categories including sales satisfaction, service satisfaction, market share, vehicle delivery excellence and employee certification. Dealerships must meet or exceed the standard in all areas of dealership performance in order to qualify for the award.
The 2014 award marks the 9th consecutive year and 18th time overall that Pedersen Toyota has been recognized by Toyota Motor Sales, U.S.A. Inc. with this honor.
"This award caps what was already an outstanding 2014 where we saw strong growth in new Toyota sales and welcomed in several exciting new models to the Toyota family including the redesigned Camry, Camry Hybrid, Highlander and Yaris," said Pedersen. "As we move into 2015 we are optimistic that it will be another strong year. We are also very excited to begin construction of our new, state-of-the-art facility, allowing us to continue to provide our customers with the best possible experience."
Family owned and operated since 1972, Pedersen Toyota employs more than 115 people and provides new and used Toyota vehicle sales, Toyota service, Toyota parts and a collision repair center. Pedersen Toyota is located at 4455 S. College Ave in Fort Collins. They can be reached at (970) 223-3100 or at www.pedersentoyota.com
12-18-13 - First Ever Teddy Bear Toss
Pedersen Toyota and Colorado Eagles Fans Brighten Holidays with First Ever Teddy Bear Toss
LOVELAND, Colo.-- On Saturday, December 14th the Colorado Eagles in conjunction with Pedersen Toyota and 107.9 The Bear hosted the first annual Teddy Bear Toss. Fans were asked to help make the holidays a little more special for hundreds of under privileged children across Northern Colorado. During the game against the Las Vegas Wranglers, fans were encouraged to bring a new or gently used teddy bear or stuffed animal to throw onto the ice after the first Eagles goal. In addition, Pedersen Toyota donated 500 bears that were available for a small donation. The $1,301 raised from the teddy bear sales went to local children's charities. Just over ten minutes into the first frame, Eagles veteran forward and assistant captain Trent Daavettila sent 2,208 teddy bears flying as he scored the first goal of the game.
Three full-size Toyota Tundras were stuffed full inside and out for the 107.9 "Bear Cares for Kids" campaign and donated to the Child Advocacy Research Education, UnitedDaycareCenter and the Kids Matter Project. "This year's 'Teddy Bear Toss' was an amazing display of what the residents of Northern Colorado are all about. It was so awesome to see all of those bears come raining down onto the ice at the BEC. The Colorado Eagles and their fans have again shown why they are among the elite organizations in the state. A very special "thank you" to Pedersen Toyota for being such a huge player in this year's toss. The kids and the organizations we work with for our "Bear Cares For Kids" campaign will be ecstatic, no doubt. Thank you all! You Rock!!!" Doc Jarnagin from 107.9 The Bear said. Eagles head coach and general manager Chris Stewart expressed, "We are honored to be partnered with two outstanding Northern Colorado organizations 107.9 The Bear and Pedersen Toyota, and we look forward to hosting the Teddy Bear Toss in years to come."