Get your Toyota roadtrip ready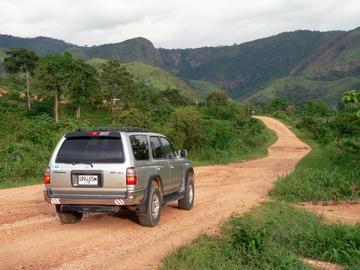 Gearing up for your next road trip? Let the experts at Pedersen Toyota dealership in Fort Collins help you with the car care you need to make sure you are road trip ready. From oil changes, to tires, to regular check-ups and more, we are your one-stop shop for all of your car maintenance needs. Pedersen Toyota has the top selection of Toyota parts, and the experts that ensure you get top-quality Toyota service.
Always be prepared before you hit the road for your next trip. Take the time to make sure your vehicle is road-worthy before you find yourself in a dangerous situation. There are several components that will get the most use while on a long journey, and you need to ensure that these parts are reliable. The repair and maintenance specialists at Pedersen Toyota have put together a "Check List" of components that you want to double check before you head out for holiday travels.
Tires- Your entire vehicle is designed around making your tires move how and where you want them to go. It makes sense that you would want to make your tires a priority. This is especially true when on a road trip. When you think of your tires, think tread and pressure. Always check that you have tread that is at well over 2/32nds of an inch deep, and that all of your tires are properly inflated. Tread wear patterns can indicate issues with the wheels, tire pressure, or suspension. If you notice that parts of your tires are wearing faster than others, it is time for an inspection.

Engine- An engine's performance while on the road depends on how well it is taken care of. First, make sure you have clean and fresh oil, as well as a new oil filter. Secondly, make sure that your cooling system is topped off and working well. Lastly, make sure that your drive belts are in good condition. Make sure you are not overlooking regularly scheduled maintenance like spark plug and air filter changes.

Brakes- Brakes are the #1 safety feature on the vehicle. Always make sure that your brakes are well maintained, and that you are not due for a brake service before you leave. This includes having brake pads with adequate braking material, having proper levels of brake fluid, and having a working emergency brake. If it has been over 4 years since your last brake job, have them inspected just to have an idea of the lifespan they have left.

Lights- Before you leave, check all of your exterior lights. These include the headlights, high beams, blinkers, turn signals, hazards, and fog lights if equipped. Most newer vehicles also have daytime running lights that you may want to double check as well.

HVAC- Now that the seasons are changing, you will want to make sure that your vehicle's heater is working well. If heading out for a long trip, it could mean the difference between life and death in an emergency situation. Secondly, your AC is needed in order to have a functioning defrost. You will want to make sure both systems are working well.

Wipers- Don't wait until you get caught in a storm to find out that you need new wiper blades. These are relatively affordable and easy to replace, and are the only things that ensure you will have visibility when the weather turns. Check them before leaving, and make sure they do not leave excess streaking or miss entire sections of the windshield. Top off your windshield wiper fluid as well.
Your local experts want to make sure you take preventative action rather than being caught off guard on your next road trip by what could have been an easy repair. Pedersen Toyota is your top car care and Toyota service center in Fort Collins. Find a huge selection of factory Toyota parts for your car, truck, or SUV. Our technicians are certified to work on all makes and models, and we have trained Hybrid staff on hand. Call or come in today for your next Toyota Service.